Why Project Runway's Season 12 Real Woman Challenge Was A Breath Of Fresh Air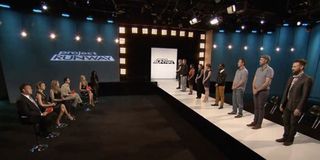 There are two types of challenges on Project Runway that usually spell disaster for the contestants. Those two types of programs are clearly the team challenges and the tasks where the contestants are asked to dress real women. In Season 12, we've seen partnerships go awry, as usual, but this week the remaining contestants really went out of their way to help make over a few Project Runway superfans, which may be a first example of a smooth "real women" challenge in PR history, or at least a good example of the show's stars being on their best behavior and working as hard as possible to create a commercial look to fit the real-life fan's specifications.
In the past, there have been some notable contestants who have not fared quite so positively during the real woman challenge. In Season 9, a contestant named Olivier Green had no idea what the concept of a "double D" chest meant and really lacked the people skills to make his meeting with his client peaceable and productive. A year later, a designer named Ven got angry and couldn't handle himself after finding out he didn't get his first choice of a "real woman." He eventually freaked out and couldn't really handle the fact that she was a plus-sized woman or that she wasn't as young as the models typically are on the series, talking on camera to anyone who would listen. Handling the catty infights of two contestants can be partly annoying and partly amusing, but dealing with contestants talking smack about women who don't have perfectly thin figures is abhorrent and oftentimes hard to watch.
Which is why Thursday's episode was such a breath of fresh air. Not only were the models superfans of the series this time around, but each and every one of the contestants was invested in trying to come up with an outfit and an overall makeover that suited each individual woman. Not all of the outfits were particularly inspired, and Alexander got a little ambitious and tried to make a complicated suit design that got away from him a little bit. Still, even the women on the bottom left with a positive experience and a new haircut and makeup look, meaning they ended up a lot happier than some of the "real women" in past seasons that we have seen. For the most part, it was an extremely pleasant hour of television.
Of course, this was marred a little bit by the fact that Ken freaked out on a contestant again this week. The man has a serious anger control problem, and while he's quick to talk about the issue with his religious community and apologize to the slighted after he freaks out, he has no control over his behavior in a given moment. It kind of ruined an otherwise pleasant episode, but things really could have been far more out of control.
A few weeks ago, I wrote an article discussing how Tim Gunn has been taking the villainous aspect out of Project Runway. I still like getting to see how a high-stress reality competition program can affect those who are participating and those half-earnest makeup sessions Gunn puts on can feel a little false. However, this week I was quite happy he tried to make peace and kept the environment on a positive note when the Project Runway superfans were on the set hoping to have the experience of a lifetime.
All in all, it was pretty good week for Project Runway. You can check out all the runway looks over at Lifetime or catch next week's brand new episode on Thursday at 9 p.m. ET.
Your Daily Blend of Entertainment News
Reality TV fan with a pinch of Disney fairy dust thrown in. Theme park junkie. If you've created a rom-com I've probably watched it.