How Tim Gunn Has Kept Project Runway From Having A True Villain In Season 12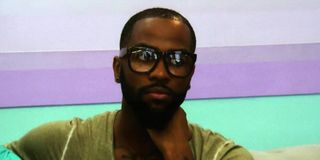 Season 12 of Project Runway has been full of petty infights, emotional breakdowns, and a few seriously threatening outbursts. None of this is unusual for Project Runway, or reality competitions in general, but the number of instances of duress have been pretty incredible, with freakouts occurring every couple of episodes. Typically, when this happens it means a villain can be found within the cast, but not this year. In Season 12, we have people who talk the talk and then meekly turn tail and apologize.
First we had the horrible catfight between Miranda and Timothy, in which Timothy behaved like an adolescent, freaking out and taking a giant unicorn toy into the hallway where he moped about Project Runway for a while. Meanwhile, Miranda was hugely mean to the young man, so they both earned villain points for their collaboration. Then they apologized to one another and made up, and over the course of several weeks, they were both sent home. Drama over.
Then, in probably what was the most prominent freak out of the season, Sandro quit at the end of a challenge after not getting a critique from the judges. He had had several moments of calling people out in anger, and eventually got into a bad fight with a member of the crew, slapping his camera away. Needless to say, Project Runway didn't invite the man back for another round, but Tim Gunn did encourage Sandro to come back so that he could apologize to the other contestants (and probably the crew, too).
Here's a picture of his freakout...
And here's a picture of his surprisingly sincere apology. Villain nullified.
Call it the Tim Gunn effect or don't, but with all of the infighting, I seriously expected a full-blown, dastardly character this season. I wanted a person to constantly complain about other contestants and constantly make mean remarks—without ever apologizing—to the cameras. I thought I had finally found this season's villain in Ken Laurence, but then he proved to be a disappointment, too.
Ken didn't look like a villain early on. He was a quiet contestant with an adorable bow tie tattoo, and he defended the team against Sandro. Then, the claws came out. He complained about "glamping" with his teammates, he got into petty fights with several of the leading ladies this season, and he freaked out several times over the littlest things. Case in point, Helen had a secret convo with Tim Gunn this week and wouldn't tell any of the other contestants what she talked about. It's pretty catty, but whatever. The other contestants didn't seem to really care, except for Ken, who totally blew the whole thing out of proportion and got into a screaming match with Helen.
This was it. Ken had already gotten upset with numerous other individuals over the last few weeks and his fight with Helen was taking him into full-blown villainy. I finally thought we had found the Season 12 person to hate watch. Then, yet again, Gunn came in with his words of wisdom and spoke with Ken, who called up his spiritual advisor (yes, that happened) and then apologized to Helen.
Sure, Project Runway is about the fashion, but it's also about sticking a dozen or so people into a room and asking them to compete against one another day in and day out. The competition aspect isn't supposed to be easy, and getting along with people can be pretty difficult, especially when team challenges are involved. I know Gunn is trying to do the right thing here and keep people on task, but would it hurt him to let people deal with their emotional problems in their own ways? For once, I wish he wasn't so good at his job. It would make for a better hour of television.
Project Runway airs on Lifetime on Thursdays at 9 p.m. ET.
Your Daily Blend of Entertainment News
Reality TV fan with a pinch of Disney fairy dust thrown in. Theme park junkie. If you've created a rom-com I've probably watched it.