Wil Wheaton Returns To The Big Bang Theory To Torment Sheldon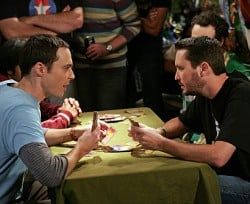 With the Winter Olympics pre-empting virtually everything this month, I'm looking forward to some of my favorites returning. Now I have even more reason to anticipate future installments of The Big Bang Theory, as Zap2It is confirming that Wil Wheaton will be returning to the series in his role as Sheldon's arch-nemesis ... Wil Wheaton.
The Big Bang Theory has had some great "geek-tastic" casting over the few years it's been on, but Wheaton's role may be the best yet. Playing a version of himself, this Wheaton was established as an arch-nemesis for Sheldon. Initially, it was resentment for an earlier incident, but as the episode played out, Wheaton manipulated Sheldon into losing a key Magic: The Gathering style of card game (made up for the show, of course) by playing into Sheldon's emotions -- which isn't easy to do.
It established a great dynamic of hatred between the two, and could have been left at that. Instead, the writers have found a feud that could run intermittently the length of the show, and Wheaton is more than happy to play along. If nothing else, it's fun to watch someone out-dick Sheldon.
Wheaton's second foray into The Big Bang Theory is schedule to air in April, 2010.
Your Daily Blend of Entertainment News
Your Daily Blend of Entertainment News
Thank you for signing up to CinemaBlend. You will receive a verification email shortly.
There was a problem. Please refresh the page and try again.