Wilfred Renewed For Season 3, Minus David Zuckerman As Showrunner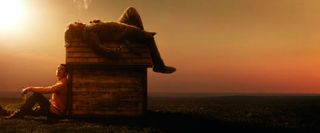 Out of nowhere, FX has become the best network on television when it comes to comedy. Argue all you like but there isn't another channel that can even come close to matching the cabler's line-up that includes not good but great series like Louie, It's Always Sunny In Philadelphia, The League, Archer and Wilfred. And it looks like they mean to keep it that way by locking up the last piece of the puzzle for at least another year.
It's been over a month and a half since the second season of the latter concluded, with fans of the pot smoking, foul mouthed man in a dog suit waiting patiently for word of renewal and finally, FX broke the news that Wilfred will be returning for a third. The network announced a 13-episode order for Season 3 yesterday with production scheduled for next spring in order to hit a June 2013 premiere. I hope that also means that they'll have an installment ready for May's Comic-Con because their sneak peeks are amongst the best at the event.
The news isn't all good, however, as David Zuckerman, who served as Showrunner on Wilfred for the first two years, is stepping aside for Season 3. He will remain on as an Executive Producer but Reed Agnew and Eli Jorné, writer/producers since the first season of the American adaptation, will take over the day to day running of the show. Nothing against those guys but the three installments they have delivered pale in comparison to the ones written by the now former EP and Showrunner.
Wilfred re-runs air Thursdays at 10 p.m. ET on FX. Based on the Australian series of the same name from Jason Gann, Adam Zwar and Tony Rogers, it stars Gann, Elijah Wood Fiona Gubelmann and Dorian Brown.
Your Daily Blend of Entertainment News
Thank you for signing up to CinemaBlend. You will receive a verification email shortly.
There was a problem. Please refresh the page and try again.