Wipeout Renewed, Jill Wagner Will Return To Hosting Duties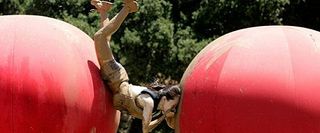 Wipeout is one of those shows I never intend to watch but can't turn away from once I accidentally get sucked in. Apparently I am not alone, since steady ratings have now earned the ridiculous obstacle course reality competition series a sixth season, which will see it reach the landmark 100th episode mark.
The series has been airing in the summer, and offers cheap entertainment for anyone who thinks people slipping and sliding their way through impossible obstacle courses is amusing. Apparently, families who watch TV together make up that audience; the series held the number one spot among Adults 18-49 viewing with kids or teens among the big networks this past year. The series has held onto ratings in spite of some losses since it first aired, making it a good summer bet for ABC.
For Season 6 Wipeout will see the return of former co-host Jill Wagner, who was replaced by Vanessa Minilli in the just-finished fifth season. Still on board to co-host with Wagner are John Anderson of Sportscenter on ESPN and John Wagner of Talk Soup on E! Deadline says that the new season will bring re-designed Wipeout Zones but see a few favorites of the obstacle course back for your viewing pleasure, including the Big Balls, which are exactly what they sound like. What new and outrageous obstacles the show can come up with is always an interesting challenge, but whatever comes up it will most certainly send plenty of contestants flying into the water (or mud) below for your amusement.
Your Daily Blend of Entertainment News