The Wiz Will Be NBC's Next Live Musical And Cirque Du Soleil Is Involved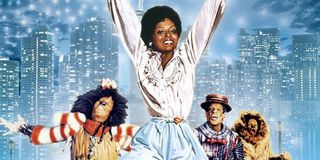 NBC has finally locked down the network's next big live musical production, and this time around, the channel has added an extra gimmick to entice viewers. Next TV season, fans will see The Wiz get produced for the small screen, but it won't be just any version of The Wiz. Instead, the network has teamed up with the new "stage division" of Cirque du Soleil to rework The Wiz for TV and Broadway.
Here's how it will work. NBC and Cirque Du Soleil will co-produce the live production, and it will air on NBC next winter on December 3. Craig Zadan and Neil Meron, who were also behind last year's Peter Pan, will executive produce. The Wiz will be directed by Tony winner Kenny Leo and writer Harvey Fierstein will add to the original Broadway book before the musical hits TV. Then, Cirque du Soleil will take the production to Broadway, where it will premiere during the 2016-2017 Broadway season. The new theater division is different than a typical Cirque show, but reports indicate that some of that circus-y flair will still be part of the company's theatrical productions. Go ahead, get a little excited.
NBC announced that another live musical would be produced for 2015 just a few months back. At the time, both The Wiz and The Music Man were being looked at. Since Cirque du Soleil is now a co-producer of the project, the company's involvement may have had something to do with why The Wiz was chosen by NBC. Regardless of how it came about, The Wiz is now the production that we will see on our TV's next December.
NBC nearly had a Wizard of Oz-based project go to series this TV season. Emerald City initially got a 10-episode order from the network, but last fall the network totally backtracked on that production. Even if Emerald City wasn't to be, it seems NBC is still interested in revisiting the world L. Frank Baum created. The Wiz is a different take on The Wonderful Wizard of Oz, taking Baum's story of Dorothy's tornado relocation and rewriting it into an African-American context. A movie was made about the Wiz, starring Diana Ross, Michael Jackson and more, back in 1979.
The Wiz will be NBC's third live musical in recent years. Their first big swing at bat was The Sound of Music, with Stephen Moyer and Carrie Underwood starring. While it wasn't a critical darling, it crushed in the ratings and paved the way for this year's Peter Pan production. That musical didn't do quite so hot, although the numbers were impressive enough that The Wiz is getting a shot. Cirque du Soleil could help those numbers improve somewhat, too.
Live productions are growing more popular across the board. Fox also has its own live musical in the works. Grease is expected to air on that network in 2015, and will star Vanessa Hudgens and Julianne Hough.
Amazing Race & Top Chef superfan with a pinch of Disney fairy dust thrown in. If you've created a rom-com I've probably watched it.