Woody Harrelson To Host Saturday Night Live Ahead Of Hunger Games Release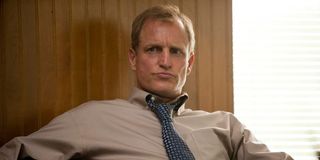 Soooo you've been missing Detective Marty Hart on your television since True Detective came to an end? Well here's some news that's sure to out an end to that gritty melancholic brooding. During last night's episode, Saturday Night Live revealed that Academy Award nominee Woody Harrelson will host the show's Nov. 15 episode, making it his third time doing so. Harrelson previously appeared on the show in 1989 and 1992, though this will be his first time in the 21st century.
In addition to the guiding hand of one of Panem's finest mentors, Harreslon will also be joined by the musical stylings of Kendrick Lamar, who made his debut on SNL back in 2013. Obviously both these appearances will tie nicely with the stars' upcoming project, which for Lamar means the anticipated release of his third studio album this year and, for Harrelson, The Hunger Games: Mockingjay -- Part 1, which hits theaters Nov. 21. I can only hope his hosting brings about a cameo from his friendly District neighbor, Jennifer Lawrence.
Saturday Night Live tweeted out the announcement in the midst of Chris Rock's performing duties, which featured a seven-minute monologue, where he blasted the Christmas economy, gun control and even pushed boundaries by making light of the Boston Marathon bombing. Gulp.
It goes without saying that this joke didn't sit particularly well with a lot of viewers, but Rock was able to land some more successful zingers, most notably this infomercial for Swiftamine.
Hopefully Woody Harrelson can top Chris Rock with some truly on point Hunger Games or True Detectives parodies, not unlike the hilarious banter he entertained onstage at the Oscars. The True Detective season two casting hunt is sure to referenced in some way, but unfortunately his buddy Matthew McConaughey's infamous Lincoln ad has already been torn apart by the show. Whatever Harrelson presents, may the odds be ever in his favor in topping the viewing numbers set by Jim Carrey and Iggy Azalea during the 40th season premiere.
Your Daily Blend of Entertainment News
Thank you for signing up to CinemaBlend. You will receive a verification email shortly.
There was a problem. Please refresh the page and try again.