The X-Files Meets 30 Days Of Night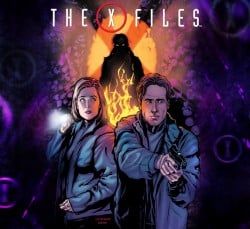 A lot of TV shows have found ways to expand their vision in the world of comics. The X-Files has been published off and on since the show was still on the air. Now, Scully and Mulder will be crossing over with another media property that actually started as a comic, before branching into a hit film.
With creator Steve Niles on board, the vampires of 30 Days of Night will be the latest case of The X-Files in a six-issue miniseries to be published later this year by DC Comics imprint WildStorm. Niles will be joined by Tool guitarist Adam Jones, while the art will be handled by the incomparable Tom Mandrake, who made The Spectre into a hit series in the '90s with his stylized horror art; perfect for a project like this.
There are no details specifically about the plot of the mini-series. 30 Days of Night has encompassed many one-shots and mini-series now, and not all of them have taken place in the far north the series derives its name from. However, Mandrake said, "What could be a better project for a horror fan like myself than pitting the X-File's best agents against relentless vampires in the frozen North? Steve Niles and Adam Jones have collaborated to mesh both concepts together to give me a chance to draw the stuff I love to draw best- my favorite FBI agents, vampires and dark, bloody horror."
This means we will get to see Mulder and Scully in the cold north facing off against the vampires in their favorite time of year, when they don't have to hide from the sun for weeks on end. It already sounds better than the latest X-Files movie.
Your Daily Blend of Entertainment News
Your Daily Blend of Entertainment News
Thank you for signing up to CinemaBlend. You will receive a verification email shortly.
There was a problem. Please refresh the page and try again.