iZombie Casts Easy A's Aly Michalka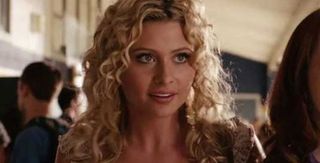 Aly Michalka knows a thing or two about playing a good BFF. She did just that in Easy A when she played Rhiannon, Olive's closest confidant... at least at first. It looks like she'll be playing a best friend once again as Michalka has been cast to play the role of Peyton in CW's iZombie. This is a bit of recasting for the series, as Alexandra Krosney played the part of Peyton in the pilot.
Recasting happens, especially in the post-pilot stage of a TV series.. Just yesterday, we shared the news that Ryan Hansen was joining the cast of NBC's Bad Judge, taking over a part played by another actor in the pilot episode. And Constantine went even further with their cast shuffle, writing out one of the pilot's main characters (and the actor who played her), and adding a new character. In the case of Rob Thomas' iZombie, it's the role of Peyton that's being recast.
TVline reports that Aly Michalka has taken over the role of Peyton in iZombie. The series is based on a DC comic and stars Rose McIvor as a med student who becomes a zombie and takes a job at a coroner's office where brains are readily accessible. Back when Alexandra Krosney was cast to play Peyton, we learned that character was Liv's best friend and roommate, and who's baffled by her friend's recent behavior.
Michalka's no stranger to the CW. In addition to Easy A and Two and a Half Men, her credits include a starring role in CW's one-season cheerleading dramedy Hellcats. Looking at the casting for iZombie's Peyton pre and post-pilot, it seems like they're aiming for someone with a comedic background to tackle this role. Alexandra Krosney had TV comedy experience as well, having starred in the first season of Last Man Standing. Taking Veronica Mars into account, as iZombie executive producers Rob Thomas and Diane Ruggiero both executive produced the teen detective series, some humor mixed into the drama is to be expected. But perhaps Peyton's set up to be a big source of comic relief. If that's the case, Aly Michalka seems like the right choice. We'll find out when iZombie airs next year.
Check her out in a couple of clips from Easy A after the jump!
There's also...
Your Daily Blend of Entertainment News
Thank you for signing up to CinemaBlend. You will receive a verification email shortly.
There was a problem. Please refresh the page and try again.