Scream's History And Legacy: Scream: The TV Series Is A Frustrating Mix Of Awful And Good
The first two seasons are terrible, but Season 3 is actually not bad.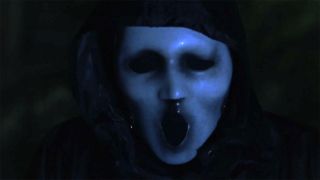 (Image credit: MTV)
Following a decade-plus hiatus for the Scream franchise, Wes Craven's Scream 4 was meant to be a comeback film – the series revitalized for a new era of the horror genre that had been dominated by remakes. It didn't work. Appreciation for the movie by the fanbase has increased over time (as explained in last week's column, I see it as the best Scream sequel thus far), but it was regarded as a disappointment at the time of its initial release. By the end of its run in domestic theaters, it barely managed to earn more than what Scream 2 and Scream 3 made in their respective opening weekends. There had been chatter during development about it possibly launching a whole new trilogy, but those plans turned to dust.
Not wanting to let the intellectual property die, The Weinstein Company opted to perform a pivot with the Scream brand. A little over a year after Scream 4's underwhelming performance at the box office, it was reported that MTV was pursuing the development of a TV show. Though primarily focused on reality content, the cable network found success with Teen Wolf and opted to double down on horror shows based on movies. It took a few years for the series to move through development, but a full series order was given in October 2014 with Jill Blotevogel and Jaime Paglia serving as showrunners and Jay Beattie and Dan Dworkin penning the pilot. (Wes Craven was credited as an executive producer, but he had no specific involvement and passed away when Season 1 was airing.)
Though Scream: The TV Series aired for three seasons, they were tumultuous. There was shock and confusion out of the gate when the decision was made for the show not to use the iconic Ghostface mask, and with each new episode run there were major creative shake-ups behind the scenes. Jill Blotevogel and Jaime Paglia were replaced by Michael Gans and Richard Register as showrunners for the second season, and Gans and Register left when it was reported that the show was going to be rebooted as an anthology. Season 3, dubbed Scream: Resurrection, hired Brett Matthews as showrunner, actually used the Ghostface mask, premiered nearly three years after Season 2, and aired on VH1 instead of MTV.
Those major decisions arguably turned out to be smart, as the show does get better with each season… but that's also very much a comment that needs a lot of context. Season 3 is solid, but it also looks particularly good compared to the first two, which are dreadful (bordering on intolerable). During a time when horror was starting to do interesting things on the small screen, Scream: The TV Series is mostly a blight on Scream's History And Legacy.
How Scream: The TV Series Fits Into The Scream Franchise
In light of the fact that the show doesn't feature Neve Campbell, Courteney Cox, David Arquette, or any of the other legacy Scream stars, it's modestly understandable that Scream: The TV Series doesn't take place in Woodsboro or have any connection to Sidney Prescott's story. With those elements removed, however, you'd think that the show would double down on the other key elements of the franchise. As mentioned, however, the first two seasons don't feature the Ghostface mask, nor do they feature the remarkable vocal talents of Roger L. Jackson (a.k.a. the voice of Ghostface). The first 13 episodes also don't have even a drop of satire in them, and the extent of pop culture awareness extends to the resident nerd character, John Karna's Noah Foster, making a movie reference.
To address the heading above, the answer is, "it doesn't." The first two seasons of Scream: The TV Series exist not as part of the beloved franchise, but as an exploitation of it. It's a generic slasher story that seems to think that Scream is simply about a serial killer wearing a white mask who murders primarily with a knife (it really has more in common with Friday The 13th than Kevin Williamson and Wes Craven's brilliant creation). Adding insult to injury it's populated with a core ensemble of terrible characters who can't die fast enough.
The 10-episode first season is easily the worst of Scream: The TV Series, as we meet the aforementioned core ensemble through a dull narrative with a comically obvious mystery. Season 2 is an improvement, but you still feel chained to the painfully stupid protagonists, and it ends up executing some extremely noticeable contradictions to what plays out in the preceding episodes (it's clear that Bex Taylor-Klaus' Audrey Jensen is meant to be revealed as the second killer, but Michael Gans and Richard Register evidently decided to ignore all of the evidence when they replaced they original showrunners).
Season 3 of Scream: The TV Series is a different discussion, as it does make efforts to actually match the proper Scream voice (both figuratively and literally)… but, of course, it is the shortest run of the show with only six episodes. The writing isn't quite clever enough to make any kind of interesting observations about the horror genre of the moment or horror television at large, but it does at least dedicate itself more to the commentary side of things with Giorgia Whigham's Beth. The mystery doesn't come together without some hiccups at the end, but the journey is made a lot more exciting with the charismatic ensemble including Keke Palmer, RJ Cyler, Jessica Sula, and Christopher Jordan Wallace.
How Scream: The TV Series Fits Into The History Of Horror
As a pillar of post-modern pop culture, the four Scream movies all have their own charms because they all find a specific niche to hone in on within their stories. The original is self-reflexive on the subject of slashers, Scream 2 is about sequels, Scream 3 focuses on trilogies, and Scream 4 takes aim at remakes. Part of what's so frustrating about Scream: The TV Series is that it came out at a surprisingly ideal time in the world of horror television, and it utterly failed to take advantage of it.
With True Blood and The Walking Dead arguably leading the way, horror had a big moment on the small screen in the 2010s (so big, in fact that we're still in it today). A significant part of it was film franchises getting adapted for serial storytelling. NBC's Hannibal is the crown jewel of the decade, and Scream followed Teen Wolf on to MTV, but other titles include A&E's underrated Bates Motel, El Ray's From Dusk Till Dawn, and Starz's excellent Ash vs Evil Dead.
Perhaps by having the story center on the teenage years of Maureen Prescott, Scream: The TV Series could have had an in-franchise narrative that commented on the trends in horror television… but what was made instead just opts to focus on general "rules" of the genre and never get beyond skin deep.
How Scream: The TV Series Changes Its Franchise's Canon And Future
A show can't really change a franchise's canon when it makes zero attempt to do so, and that's the story of Scream: The TV Series. Even without mentioning Sidney Prescott, Gale Weathers or Dewey Riley, it's ridiculous for the show to not even have the Ghostface mask in its first two seasons. The design doesn't define Scream, but it is priceless iconography that can't be substituted (as I noted in my column about 1996's Scream, KNB EFX tried to design a legally safe knockoff, but none of their efforts worked).
Wes Craven put it best in an interview with The Hollywood Reporter in April 2015 – a few months before his death:
The only way that Scream: The TV Series has really impacted the Scream franchise on the whole is demonstrating that the big screen is a better home. It's possible that Matt Bettinelli-Olpin and Tyler Gillett's Scream doesn't happen if the show was still airing, so that can be viewed as a positive.
In that same conversation, of course, is the presence of Roger L. Jackson. In Season 1 and Season 2 of Scream: The TV Series, Mike Vaughn does the voice of the killer whenever he calls the protagonists, and, like the mask, it comes off as exactly what it is: a knock-off. Like the Ghostface mask, Jackson became a part of the show in Season 3, and his contribution adds incalculable levels to the phone calls.
Is Scream: The TV Series A Good Horror TV Series In General?
Again, this is a discussion of two very different versions of the show. Scream: The TV Series in its first 23 episodes is an awful show. Season 3 isn't exactly a revelation, but everything about it is better than Season 1 and Season 2.
Speaking to the initial run, Scream: The TV Series gets a lot of dings because of its terrible indifference to what makes Scream interesting, but it's also a fail on every level as a slasher narrative. The worst sin that any entry into the subgenre can commit is failing to develop characters whose fates you care about, and everyone in the ensemble fails to earn that by either making awful decisions or being an all-around terrible individual. You cheer when the killer strikes, and are disappointed when the victim manages to survive.
Season 3 is a great contrast. There are traditional high school archetypes in play (direct comparison between the ensemble and the characters in The Breakfast Club is identified in the first episode), but they are provided with depth and mystery that keep the stakes raised. RJ Cyler is a compelling lead with a legitimately surprising secret – but Keke Palmer is the unquestioned bright shining star, as her charisma is unstoppable. It's still not a perfect fit within the Scream canon, but it has its own thrills and personality as well as a fun role for horror legend Tony Todd.
How To Watch Scream: The TV Series
I can't recommend in good conscience that even the most curious fan watch the first two seasons of Scream: The TV Series, but I will note that Season 3 is available to watch with a Netflix subscription (and the other seasons are there too). Online outlets including Prime Video (opens in new tab), Google Play, Apple (opens in new tab) and Vudu (opens in new tab) have episodes available for digital purchase, and only Season 1 has been given a DVD physical media release (opens in new tab) (not an endorsement, just a statement of fact).
With Scream VI coming out on March 10, Scream's History And Legacy will be concluding next week with a deep dive into Matt Bettinelli-Olpin and Tyler Gillett's Scream from last year. Look for the feature in the CinemaBlend movie section next Thursday.
Your Daily Blend of Entertainment News
Assistant Managing Editor
NJ native who calls LA home and lives in a Dreamatorium. A decade-plus CinemaBlend veteran who is endlessly enthusiastic about the career he's dreamt of since seventh grade.