Scream's History And Legacy: The Slasher Series Hits A Low Point With 2000's Scream 3
The brilliant meta slasher series hits a snag.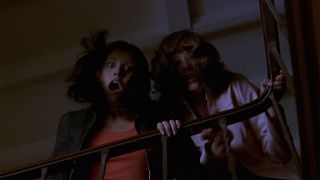 (Image credit: Dimension Films)
When Wes Craven's Scream turned out to be a massive hit in the late weeks of 1996 and the early months of 1997, Dimension Films was quick to take advantage. Not wanting to waste heat, the studio quickly ordered work on a sequel, and the filmmakers were given less than a year to make it. That kind of pressure and speed isn't typically seen as conducive to quality in creative endeavors, and the production had to contend with the fact that screenwriter Kevin Williamson was simultaneously showrunning his first TV series (Dawson's Creek), but things nonetheless worked out miraculously well. Scream 2 arrived in theaters in December 1997, and it not only lived up to its predecessor as a box office hit, but was greeted with a warm critical reception.
Of course, this led to the question of, "Could it be done again?" and conversations about Scream 3 began immediately – but the idea of developing another sequel to be made in similar fashion was met with protest. As producer Cathy Konrad explains in the documentary Still Screaming: The Ultimate Scary Movie Retrospective:
The respite was granted, and the making of Scream 3 was put off for the benefit of the filmmakers, but hitting the pause button did have its consequences. Hollywood's demand for Williamson's voice as a writer only increased after the making of Scream 2, and developing films like The Faculty and Teaching Mrs. Tingle in addition to his TV work took him away from his commitment to his slasher satire.
He did develop a treatment for the second sequel – one that returned the action to the town of Woodsboro, California and would have brought back Matthew Lillard as one of the killers – but it wasn't ultimately used. Per Konrad, studio head Bob Weinstein "got impatient" waiting for Williamson's availability, and, furthermore, the decision was made to go in a different direction with the new film following the Columbine High School shooting in April 1999. In the Still Screaming bonus features, Lillard says,
There was much more time in between the release of Scream 2 and the development of Scream 3 compared to the time between the first two films, but that extra time unfortunately didn't end up being a resource in the writing of the script, which began production in the summer of 1999. Screenwriter Ehren Kruger was hired to replace Kevin Williamson, but he didn't come aboard until about a month-and-a-half before principal photography was set to begin, and he didn't even end up becoming a permanent resource for the production. In Still Screaming, producer Marianne Maddalena says,
Laeta Kalogridis, who at the time was working on adapting Wes Craven's novel Fountain Society, was hired to do uncredited work on the script, and in her Still Screaming interview, she confesses to having been the one who came up with the twist that saw Roman Bridger (Scott Foley) revealed as Sidney Prescott's half-brother. Scream 3 was mostly made with the filmmakers flying by the seat of their pants. Pages were written on set and then shot, and not only did a number of sequences require reshooting during production, but multiple versions of scenes were done to provide options in post-production in case of later changes. Making circumstances more complicated, star Neve Campbell was only available for three weeks of principal photography due to her commitments to both Party Of Five and the comedy Drowning Mona.
The general popularity of the series led to Scream 3 being the franchise's third straight box office hit when it was released on February 4, 2000 — earning $161.8 million worldwide – but time has done few favors for the film. Like every movie ever made, it has its defenders, but mostly it's recognized as a black mark on Scream's history and legacy.
Why Scream 3 Is The Worst Movie In The Scream Franchise
Practically every film franchise has its own weak link, and in the case of Scream there is little disputing that it's Scream 3. The movie is not obviously reflective of the rough and shabby way it was made – a credit to the skills of Wes Craven as a director and Patrick Lussier as an editor – but it's also nowhere near as sharp as any of the other sequels.
The idea of having the production of Stab 3 be a central part of the plot and in-movie actors playing the legacy characters is a terrific touch in the film (and one that comes from Williamson's original treatment), but the movie misses the all-important satirical element that is so beloved and critical in its predecessors. Jamie Kennedy's Randy Meeks returns from beyond the grave to provide a dose of commentary on trilogies, but there's no subversion of tropes or winking; it's just simple set-up and foreshadowing played out with mostly mediocre kill scenes.
The film employs a number of bad ideas, including some that feel super dated (the scared actors being faxed new script pages being a prime example), but the unequivocal worst is the magic voice box that Ghostface uses, allowing him to sound like any character. Not only is it a preposterous idea for the era of technology in which the movie is set (again, it uses a fax machine as a plot device), but it takes away from the iconic role played by Roger L. Jackson, and that's just unacceptable. The fact that subsequent sequels haven't made use of anything like it feels like recognition of the mistake that it is.
Save for the too-early dismissal of Cotton Weary (Liev Schreiber), what Scream 3 does have going for it is its treatment of its principal characters. The push and pull relationship between Gale (Courteney Cox) and Dewey (David Arquette) is well extended from what we saw developing between them in the first two films, and Jennifer Jolie a.k.a. Actor Gale (Parker Posey) is a fun obstacle/substitute that stands between them. It can also be said that the production made smart use of the limited time that Campbell was available. You won't soon find me defending the dream sequence with Maureen Prescott (Lynn McRee), which just doesn't blend with the Scream style, but Sidney has a strong arc as she goes from scared recluse to resurgent hero who rediscovers her strength.
The twist that Roman Bridger is related to Sidney is solid, but it's unfortunate that it's not better layered into the film (surely a consequence of the slapdash way the script was written). Scream 3 also features a flaw similar to Scream 2 in that it proposes that the killer is following some kind of pattern (killing actors in the order in which they die in Stab 3), but that idea gets abandoned as soon as characters point to it.
Looking at it like an optimist, it's nice that Scream 3 doesn't wholly derail the series, and we can be happy that the responsibility of being the final chapter of a trilogy has stripped been stripped from it.
How Scream 3 Fits Into The History Of Horror
Scream and Scream 2 were both massive boons to the slasher subgenre when they arrived in theaters, and they inspired a wave of original titles – but by the time the world was moving into the 21st century, steam was lost. Despite cinematic serial killers going out of fashion, however, the box office viability of horror continued to be recognized thanks to Scream, and studios started looking for new ways to scare audiences.
Around the time that Scream 3 was released, horror was in a transition period that saw two notable branches start to develop: popular originals and remakes of classics. In the months before the Wes Craven film, audiences experienced the terrifying found footage of The Blair Witch Project and the spooky twist of The Sixth Sense, and Hollywood also offered redoes of both The Haunting and House On Haunted Hill. It was a precursor to a decade that would offer up fresh franchises like Final Destination and Saw along with the Platinum Dunes versions of The Texas Chainsaw Massacre, The Amityville Horror, The Hitcher, and Friday The 13th.
It was a strange time for the Scream franchise to be a part of, and further adding to the awkwardness was the forthcoming arrival of Keenen Ivory Wayans' Scary Movie – a parody feature that took aim at slashers in general but was produced by Dimension Films and featured Scream as a main target of its jokes. With Scream 3 being notably less funny than the previous two installments, and satire now being the target of satire, the horror series was basically forced into hibernation until its resurgence 11 years later.
How Scream 3 Sets Up Its Franchise's Future
Being a second sequel and initially viewed as the conclusion of a trilogy, Scream 3 wasn't really in a position to introduce new core elements to the series when it was being made; its responsibility was more about building on what already existed. That being said, it does introduce elements that have since been further emphasized within the canon, and they are worthy of recognition.
Following the introduction of Stab as an in-world movie in Scream 2, for example, Scream 3 gets the credit for turning Stab into a parallel franchise in the continuity. All the Scream sequels released since have made the fictional series a part of the fun –with it particularly getting a big focus in 2022's Scream.
While on the subject of the Matt Bettinelli-Olpin and Tyler Gillett film, that movie notably includes Heather Matarazzo as Martha Meeks (Randy's sister), and fans will remember that she was first brought into the franchise in Scream 3.
Perhaps the most significant thing that the film adds to the series is closure for Maureen Prescott. The behavior of Sidney's mom prior to her murder has a role to play in the motives of the various Ghostface killers in the first three Scream movies, but the revelation of Roman Bridger as the heroine's half-brother/the mentor to Billy Loomis and Stu Macher has closed the book on that bit of backstory.
Is Scream 3 A Good Horror Movie In General?
Scream 3 gets a bit extra dinged in pop culture history because of the fact that it is clearly the worst chapter in the on-going series, but viewed with a broader lens, it's… fine. The fact that it stays true to its well-crafted main characters keeps you invested in the story, and, surprisingly, it does an effective job of keeping you guessing when it comes to the identity of the killer.
Though the different kill sequences aren't particularly memorable when it comes to the standards of Scream, there's no forgetting that Wes Craven was a master of his craft. Sidney Prescott being chased through a fake version of her childhood home as a single example is prime Craven.
One would struggle to say that it's good enough to randomly select and watch independent of the rest of the franchise, but it's the kind of movie you find while channel surfing and can settle for when there's nothing else on.
How To Watch Scream 3
With Scream VI set to arrive in just a few weeks, now is the perfect time to start your rewatch of the franchise, and though Scream 3 may be the worst of the bunch, it's still necessary viewing in the Scream experience. A Paramount+ subscription provides instant access to the film, though there are plenty of other options. The movie is available for digital rental and purchase from outlets including Amazon (opens in new tab) and Vudu (opens in new tab) and you can catch it for free (with ads) on YouTube. Unlike Scream and Scream 2, a 4K physical media release doesn't exist yet, but it is still available on Blu-ray (opens in new tab).
Jumping forward in time a little over a decade, my next deep dive into the Scream franchise will be taking a look at Wes Craven's Scream 4 – a sequel with arguably the opposite reputation of Scream 3. The column will be here on CinemaBlend next Thursday as the countdown to the March 10 release of Scream VI continues.
Your Daily Blend of Entertainment News
Assistant Managing Editor
NJ native who calls LA home and lives in a Dreamatorium. A decade-plus CinemaBlend veteran who is endlessly enthusiastic about the career he's dreamt of since seventh grade.