Wheel Of Fortune Contestant Objected To Pat Sajak About Category, And Many Fans Seem To Agree
I have to agree with the fans on this one.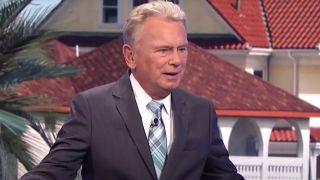 (Image credit: Wheel of Fortune)
It's not rare for Wheel of Fortune to get called into question when fans deem a ruling on the show unfair. Pat Sajak has been accused of inconsistently enforcing some of the rules on the revered game show, which can lead to some contestants missing out on big winnings. One recent player, however, didn't wait for the social media response, appealing to the host, who's been on the show for over 40 years, after the Bonus Round puzzle didn't seem to fit the category he'd chosen. Plenty of viewers agreed, and they're speaking out on his behalf.
California resident Ben Tucker appeared on Wheel of Fortune on January 26, choosing the category Fun & Games when he advanced to the Bonus Round. After not filling in many letters on the final puzzle, Tucker was unable to come up with the correct response: "Taking A Quick Jog." When Pat Sajak lamented that the contestant simply hadn't chosen letters that would have helped him, Tucker responded:
Fans on Instagram not only agreed with Ben Tucker that taking a quick jog shouldn't be considered a game, they applauded the contestant for speaking out about it, with one commenter saying:
It wasn't just the viewing audience at home, however, that agreed with Ben Tucker. Wheel of Fortune, by its own admission, acknowledged that he wasn't wrong when they shared the moment on social media. You can see how it all went down below:
WoF captioned the video "He has a point," with thoughtful and laughing emojis, but it wasn't lost on the show's followers that Ben Tucker potentially missed out on his prize because of the questionable logic. Many others took to the comments to argue that jogging shouldn't have been included in the category of Fun & Games, with some calling for him to be compensated for the show's mistake:
Nothing beats a good old fashion game of JOGGING! – terriblyawesomecovers
You know who also doesnt consider jogging to be fun? EVERYONE ELSE! – theaceofspader
He's right - jogging is neither fun, nor a game. Give him his cash. – eqzak
That was a rotten puzzle. That is not a fun and games category. He's right. – nancyj2014
He's absolutely right! Give him a second chance or better yet, give him the prize! – linrez
Others pointed out that there were easily other categories that puzzle could have (and probably should have) fit into:
Nobody considers that fun and games that's fitness, come on. – tank_the_benja_bread_man
Yes, it should've been the "what are you doing?" period! – stevensempirestore
This puzzle absolutely did not fit the category. The category should've been "What are you doing?" – lucy_loud_213
He is right, the clue should be "ACTIVITY" rather than "FUN & GAMES" – zohrvegen
Yeah, this is more of "What Are You Doing?". – mr.face222
Plenty of contestants have gone viral in the past for wildly wrong guesses to a puzzle's solution, which can make for rounds that are just excruciating to watch. But Ben Tucker arguably didn't even have a shot, if he never would have considered that the answer might be fitness- or activity-related.
With the show even admitting that the contestant wasn't wrong about the category, is there a chance he could be invited back? We'll have to wait and see. In the meantime, check your local listings to see when Wheel of Fortune plays in your area, and take a look at our 2023 TV schedule to see what shows are premiering soon.
Your Daily Blend of Entertainment News
Mom of two and hard-core '90s kid. Unprovoked, will quote Friends in any situation. Thrives on New Orleans Saints football, The West Wing and taco trucks.