6 Women Who Were Instrumental In Building Disneyland
Walt Disney's dream of Disneyland would not have come true without some incredible women.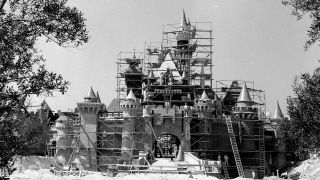 (Image credit: Disney Parks)
When Disneyland opened in 1955 it was unlike anything the world had ever seen before. It was not simply an amusement park, but a theme park, an intricately designed experience, and one that continued to evolve over the years to come. As we celebrate Women's History Month, it's a good time to take a look at some of the women who made Disneyland the place that it was, and who helped it turn into the place that it is.
Since Disneyland was designed in the 1950s and went through some of its biggest changes in the 1960s, it was, to be fair, largely a creation of a bunch of white men. However, even in its earliest days, there were some brilliant and talented women who made their mark on the Happiest Place on Earth.
Ruth Shellhorn
Disney Legend Bill Evans had the title of director of Landscape Architecture during the development of Disneyland, but neither he nor his partner and brother were licensed or trained in the field. They were horticulturalists, great at cultivating plants, but not as great at actual design. As work progressed on Main Street U.S.A and the hub that led into the various lands, Walt Disney realized that the aesthetic flow of the space was all wrong. It needed something more.
Enter Ruth Shellhorn. She was recommended to Walt and quickly gained his unwavering support, largely by being willing to tell him he was wrong. Walt wanted to put a bandstand in Town Square, but Shellhorn recommended against it, saying it would block the view. He started construction anyway, then tore it all out once he realized she was right. He's quoted as having told Shellhorn, "You have my absolute confidence." The landscape design of Main Street U.S.A., the hub, and the pedestrian circulation of the park itself is Shellhorn's work. She is the only woman on this list who has not been named a Disney Legend by the company, and that's a travesty that needs to be addressed.
Harriet Burns
Disneyland would not exist, and certainly would not be the place that it is today, without the creation of WED Enterprises, the organization that became Walt Disney Imagineering, but before either name, it was simply the WED Model Shop, and one of its first three employees was Harriet Burns.
Burns started her career as a prop and set painter at Disney Studios but she quickly shifted over to working on Walt's theme park idea. She created scale models, necessary for full-scale construction, of Sleeping Beauty's Castle, which opened its draw bridge for the first time when the park opened in July 1955. Later she would build the model for the first roller coaster, the Matterhorn Bobsleds, and models for both New Orleans Square attractions, Pirates of the Caribbean, and the Haunted Mansion. She was also responsible for finishing work on several audio-animatronics, including adding all the feathers to the birds of Walt Disney's Enchanted Tiki Room.
Mary Blair
Mary Blair went to work at the Walt Disney Studio in 1940 and worked on numerous animated features that would eventually become the inspiration for attractions at Disneyland and Walt Disney World, including everything from Dumbo to Peter Pan. In 1953 she left Disney to become a freelance artist, but in 1963 Walt Disney would ask her back to work on a new project, not specifically for Disneyland, but for the 1964-65 New York World's Fair.
The attraction was a boat ride celebrating the children of the world that would come to be called It's a Small World. Blair's art would inspire the creation of the iconic dolls that would fill out the ride singing the song that people either love or hate. When it came time for the attraction to be moved west and put inside Disneyland, Blair would also do the initial sketch for the clock facade that still graces the attraction today.
Joyce Carlson
Joyce Carlson started working at Disney in the same place where a lot of artists got their start, the mail room. However, she quickly found herself in the place where many of the female employees of Disney eventually ended up, the ink-and-paint department. She worked on the WWII training films that got the Disney Studio through the war, and also worked on projects from The Three Caballeros to Lady and the Tramp.
By 1960 Carlson had moved over to WED Enterprises, where she worked on several of the attractions for the 1964-65 New York World's Fair that would eventually find their way to Disneyland. She took Mary Blair's sketches for It's a Small World and is largely responsible for constructing the dozens of physical dolls that fill the ride. She also helped build the sets for the Carousel of Progress, with the assistance of another woman on this list.
Leotta Toombs
Leotta Tombs took a very similar path as Joyce Carlson, in fact, the two largely worked together on the World's Fair attractions after Toombs also made the jump to WED Enterprises from the Ink-And-Paint Department of the Walt Disney Studio. However, Toombs' place in Disneyland history is incomplete without mentioning the place inside the park where she can still be found today, the Haunted Mansion.
Toombs was the facial model, and thus became the namesake for, "Madame Leotta," the head inside the crystal ball that is still one of the Haunted Mansion's most memorable moments. While the voice is not that of Toombs, she can be heard at the end of the attraction when the hologram, known as "Little Leotta" encourages guests to "hurry back." Toombs is also the mother of current Walt Disney Imagineer Kim Irvine, who takes her mother's place at Disneyland's Haunted Mansion during the Haunted Mansion Holiday overlay.
Dorothea Holt Redmond
Dorthea Holt Redmond's primary contributions at Disney Parks were at Walt Disney World, but before she got there, she made some key contributions to Walt's park, and at his request. Redmond was one of the first female production designers in Hollywood and she put those skills to great use redesigning the Red Wagon Inn restaurant, transforming it into the Plaza Inn that guests know and love today. She also designed several of the restaurant and shop interiors in the then brand-new New Orleans Square.
However, her most iconic work at Disneyland isn't seen by most visitors to the park. She designed an apartment inside New Orleans Square that was meant to be Walt Disney's new home inside Disneyland, replacing his much too-small Firehouse apartment. Unfortunately, he died before the space could ever be put to use. It's now known as the Disneyland Dream Suite and is a place where a few special VIPs have stayed inside the park, it's also home to the exclusive 21 Royal restaurant.
Certainly, without these women and their unique talents, Disneyland would not be the place that it is today. Most of these women's incredible contributions have been recognized internally, as all but one of them are Disney Legends. Why Ruth Shellhorn has continued to be overlooked all these decades later is a question without a satisfactory answer. We certainly do not overlook her here, nor do we forget any of the great women who brought us Disneyland.
Your Daily Blend of Entertainment News
Content Producer/Theme Park Beat
CinemaBlend's resident theme park junkie and amateur Disney historian. Armchair Imagineer. Epcot Stan. Future Club 33 Member.