Disneyland: The Most Expensive Place To Have Dinner At The California Theme Park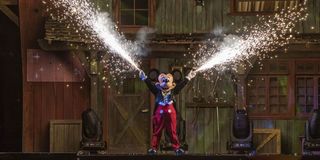 For most people, the main appeal of theme parks like Disneyland is the long list of attractions. Whether you like roller coasters, immersive dark rides, or entertaining stage shows, there is so much to do that it frequently can't all be done in a single day. However, for some, especially those of us that attend theme parks frequently, some of the most fun can be found in the food. Parks often have some of the most creative food you'll find around, and usually you can't get it anywhere else.
Disneyland has a lot of food options that you can't find elsewhere, but on top of the uniquely flavored churros and the varieties of Dole Whip, there's a dining experience that is so unique that it can only be experienced by a dozen people at a time, a dozen people with a significant amount of spending money. It's so exclusive that a lot of people aren't even aware of its existence, and it's called 21 Royal.
What Is 21 Royal And What Does It Cost?
21 Royal is a private dining room which you can find inside Disneyland's New Orleans Square, at 21 Royal Street, to be specific. You won't find it available on the Disney Parks app to make a reservation because the restaurant only does one seating a night. Reservations can be made for up to 12 people, and the meal costs $15,000.
No, that's not a typo.
A 21 Royal meal goes for $15,000, or, about $1,250 per person if you bring a full table. The price alone is likely enough to price out most people. But, if you can swing it, you're in for one of the most magical experiences Disney can provide.
What Do You Get At 21 Royal?
You get dinner, of course, but that's not all. To get to 21 Royal, you need to enter Disneyland itself, and a reservation gets you everything you need to do that, including valet parking at the Grand Californian Resort and Spa (currently $35 per night), and park hopper tickets for your party (currently $209 per person if purchased during the park's busiest days), meaning you can visit both Disneyland and Disney California Adventure all day while you're waiting for your meal.
And then comes the seven course dinner. A couple of cocktails and wine pairings are also included in the price, as are all taxes and tip. So at least it's nice that the $15,000 is an inclusive price, right? 21 Royal promises to use the best available ingredients to create a unique dining experience. Your meal will likely be quite different than others served at 21 Royal, and if you're a fan of good food, it sounds amazing.
21 Royal's location, above Pirates of the Caribbean also gives one a perfect view of the Rivers of America, which means on nights when the Fantasmic! show is being performed, you can view it from the private patio.
Even if you're not a huge Disney fan, but are a serious foodie, there's probably enough reason to consider a 21 Royal reservation.
Walt Disney And 21 Royal
Of course, even if you try to put a dollar value on every aspect of 21 Royal, it's probably not going to add up to $15,000. There's an intangible aspect to the dining experience that goes beyond the food, because 21 Royal's location is an important piece of Disney history.
When Disneyland was first built in the 1950s a small apartment above the Fire House was constructed so Walt Disney would have a place to stay when he was on site. A small lamp was placed in the window, and when it was lit, cast members knew Walt was in. On a side note, since Walt died, the lamp in the window has remained lit permanently.
However, as time went on Walt decided he needed someplace bigger. He frequently brought his grandkids to the park with him and he also wanted a place where he could entertain VIPs, and the Fire House apartment was simply too small for all that. And so, when Disneyland's first new land, New Orleans Square, was built, a new apartment was begun for Walt Disney and his family.
Unfortunately, Walt would never get to use it. Walt Disney would die on December 15, 1966, before the apartment was finished. With Walt gone, the feeling was the family wouldn't want to use the apartment, and so Disney stopped construction.
The Disneyland Dream Suite
Over the next four decades the Royal Suite, as it was referred to when it was to be Walt's home, saw a variety of tenants. It first became a hospitality suite for Disney sponsors. Then it was Disney office space, and it even became the first home of the Disney Gallery, showing off Disney artwork, the only time the space has been available to the general public.
In 2007, the Disney Gallery moved to Main Street U.S.A and Walt's Suite became the Disneyland Dream Suite. The space was transformed into something like what it would have been had Walt's special apartment ever been completed. The suite was offered as a place to spend the night for contest winners and other VIPs.
However, the suite simply wasn't getting a lot of use and so in 2014, 21 Royal was born. The Dream Suite remains intact even though it's no longer used for those purposes and you're welcome to tour it while enjoying your pre-dinner cocktails.
Being able to eat dinner in a place that was designed to be the home of Walt Disney is as close as many of us will get to the man that so many idolize. For the most passionate Disney fans, and let's face it, there are a lot of those, making that connection to "Uncle Walt" is going to be something you can't put a price on.
Is 21 Royal worth it? Hell, I don't know. There are already some great places to eat at Disneyland, and some special experiences that can be had while dining, and while they're not inexpensive, they're certainly cheaper than 21 Royal. But then, they're not 21 Royal. And the exclusivity is part of the appeal. As somebody who is both a Disney fan and a lover of great food, this one is certainly on my bucket list. Now I just need to find 11 friends to help me cover the cost. Who's in?
Images Courtesy Disney Parks
Content Producer/Theme Park Beat
CinemaBlend's resident theme park junkie and amateur Disney historian. Armchair Imagineer. Epcot Stan. Future Club 33 Member.
Your Daily Blend of Entertainment News
Thank you for signing up to CinemaBlend. You will receive a verification email shortly.
There was a problem. Please refresh the page and try again.