Blade Faces Down The House Of Chthon On Unrated DVD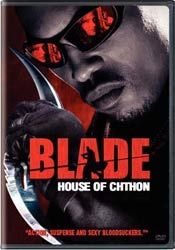 I originally saw the upcoming DVD release Blade: House of Chthon as another step down for the day walker. After two awesome movies, the Blade franchise seemed to falter and crack. Blade: Trinity felt like a weak rehash of the first two movies combined, and then the vampire hunter headed for television… on Spike. Not to be cruel, but the "television for men" channel isn't exactly known for compelling plots, although the series was getting decent praise. Then I saw Blade: House of Chthon, what appeared to be a straight to DVD movie, spelling doom for the future of what had been a promising franchise.
Well, it turns out I was wrong. Blade: House of Chthon isn't a direct to DVD movie. Instead it's an extended, feature length, uncut version of the pilot episode for "Blade: The Series", as written by David Goyer. You remember Goyer, right? He's the guy who made the first couple of Blade movies pretty darn cool (before he tried writing and directing the third film).
Blade: House of Chthon follows the vampire killer (Sticky Fingaz) as he teams up with Krista (Jill Wagner), whose brother was killed by vampires. The two face down the deadly House of Chthon, a vampire organization attempting to develop a serum for a breed of super-vampire, immune to all of the typical weaknesses.
The DVD is coming out September 18th with commentary tracks (including one with Goyer) and a making-of featurette. Since no second season is forthcoming, that September date comes close to marking the anniversary of the series cancellation. I guess fans can mourn the loss of their show with unrated Blade goodness.
Your Daily Blend of Entertainment News