Bob Gale Explains Why There's So Little Eric Stoltz Footage On The Back To The Future Blu-Ray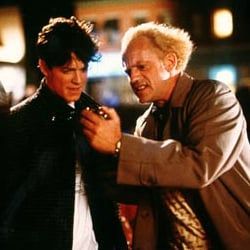 Earlier today I had the surreal, possibly life-altering experience of attending a reunion between the many major players of Back to the Future, including director Robert Zemeckis, co-writer Bob Gale, producer Neil Canton, stars Christopher Lloyd, Michael J. Fox, Lea Thompson and Mary Steenburgen, and even Huey Lewis. As a lifelong Back to the Future fan I was a little verklempt, and was even more excited to chat a little after the conference with Gale, who may be the world's leading Back to the Future experts, along with the nicest guy imaginable.
i actually talked to Gale last week over the phone-- I'll be running that interivew later today-- but took the opportunity today to ask him about the much-publicized documentary on the new Blu-Ray set that for the first time shows footage of Eric Stoltz as Marty McFly. Diehard Back to the Future fans remember that Stoltz shot for five weeks in the lead role before Zemeckis decided to recast with Michael J. Fox instead; the documentary (which is included on the Blu-Ray set that releases tomorrow) is the first time they've allowed that footage to be seen.
I asked Gale why they didn't include any more of the footage, including any of the actual sound, and he had a pretty simple answer:
Gale added that he, Zemeckis and executive producer Steven Spielberg initially didn't even want to include the Stoltz footage on the Blu-Ray release, and that they were convinced by the documentary's director, who promised "the fans really want to see it." The selected Stoltz footage was run by all three for approval before being included in the final documentary.
Lest you worry that the rest of the footage has been destroyed or locked away in some vault, Gale teased that more of it-- including actual dialogue-- may be available on a 35th anniversary edition of the film. And no, Stoltz doesn't have any say in it one way or another-- the contract he signed allows them to use the footage however they like. It's just out of courtesy that they've held so much of it back-- a polite move pretty appropriate to the spirit of the movie, don't you think?
Check out what we have of the Stoltz footage below, and imagine the Back to the Future that could have been.
Your Daily Blend of Entertainment News
Staff Writer at CinemaBlend