Disney Cheapens Alice In Wonderland Blu-Ray Release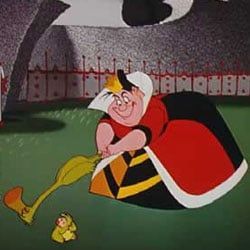 Disney really wants you to buy into their new Blu-Ray/DVD/Digital Disc packaging. It's no wonder, the features on these things are enormously calculated and complicated, and they look great. But with the 60th anniversary of Alice in Wonderland hitting stores tomorrow, Disney has found a way to make their new Blu-Rays not only classy, but affordable.
If you are the proud owner of Blu-Ray, DVD, or VHS copies of any of the following films, you are eligible for a $10 off coupon for the new Alice in Wonderland Blu-Ray. All you need to do is click this link and follow the easy four-step guide to obtaining your discount. The coupon is available until February 7th, so you've got a full week to get your rear in gear.
Titles that enable you for the discount are:
Any Alice in Wonderland Animated Edition
Beauty and the Beast Diamond Edition
Fantasia/Fantasia 2000 Diamond Edition
Tim Burton's Alice in Wonderland
The Boys: Sherman Brothers' Story
Walt & El Grupo
Check out Ed's extensive disc review of the new Alice in Wonderland set right here.
Your Daily Blend of Entertainment News