Disney Vault Doors Closing on Lady, Tramp, Bambi, and Narnia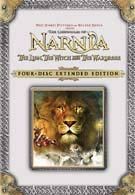 As inconvenient as it can be, I have some respect for the Disney business plan for video releases. Titles are released for a limited period of time and then go "back into the Disney vault" on moratorium for several years. This ensures the Mouse House sells volumes while the titles are available, but don't flood the market with millions of movies. (Personally, I wish the movies remained available year round at the parks, but that's my minor quibble).
Three Disney flicks are headed for the vault very soon, so here's your warning to make sure you pick them up. Bambi: Special Edition, Lady and the Tramp: 50th Anniversary Edition, Lady and the Tramp II: Scamp's Adventure and the Four Disc Extended Edition of The Chronicles of Narnia: the Lion, the Witch, and the Wardrobe will be closed off after January 31st. Sure, stores will hold on to the copies they have, but no more will come out, which means the titles will rapidly be difficult to obtain.
Of those, the last one is the most bothersome to me. That edition of Chronicles of Narnia only came out a few weeks ago (December 12th), making it a very limited release.
If you, like me, still need to pick up some of these Disney classics, it's time to act very soon. After January 31st, the vault doors will close and it will be some time before any of those four titles will be available again.
Your Daily Blend of Entertainment News
Thank you for signing up to CinemaBlend. You will receive a verification email shortly.
There was a problem. Please refresh the page and try again.