I'm Going Down To South Park Gonna Have Myself A Time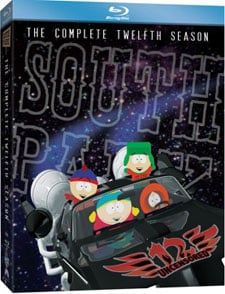 It's hard to believe that I was only in middle school when the South Park craze began. I think I still have my collection of ceramic character necklaces somewhere. Twelve seasons later, the raunchy grotesque cartoon is still thriving. Soon you'll be able to enjoy the 12th season as much as you want because on March 10th, Paramount Home Entertainment and Comedy Central will release South Park: The Complete Twelfth Season on DVD and Blu-ray.
The boys deal with a number of issues this season. When Cartman has his tonsils removed he contracts HIV, Kenny gets hooked on the latest drug craze involving male cat urine and Stan feels the pressure of losing his girlfriend if he can't learn to sing and dance like the kids of High School Musical. This is all on top of a disastrous trip to the Andes Mountains, the sexual assault of Indiana Jones, and the loss of Internet. What do you expect when you live in South Park?
Even though I do buy some television shows on DVD, it upsets me that once I've watched the season once, it's unlikely I'll watch it again. When these box sets come at a heavy cost, I constantly doubt whether it was worth dropping the cash rather than just renting the discs from Blockbuster or Netflix. South Park is different. It reminds me of The Simpsons; even if you've seen a particular episode ten times, it's still just as funny, if not funnier, the eleventh, which makes it worth the money. In addition to the 14 uncensored episodes, you get three special features: "The Making of 'Major Boobage' Disc One," "Six Days to South Park – A Day-by-Day Making of South Park (Super Funny Times) Disc Two" and "Six Days to South Park – The Sixth Day (About Last Night) Disc Three."
It'll cost you $49.99 to get this three-disc set on DVD and $69.99 on Blu-ray. This is actually the first time a South Park season will be available on Blu-ray and I suspect it might be worth checking out. There's nothing like seeing those kids hop around town in high definition.
Staff Writer for CinemaBlend.
Your Daily Blend of Entertainment News
Thank you for signing up to CinemaBlend. You will receive a verification email shortly.
There was a problem. Please refresh the page and try again.