I Am Jack's 10th Anniversary Fight Club Blu-Ray Release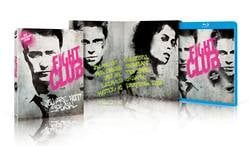 The first rule of Fight Club is not to talk about Fight Club, but Twentieth Century Fox Home Entertainment has flagrantly violated that rule by announcing the full details of the new 10th Anniversary Edition of the flick on Blu-Ray. You may not be the contents of your wallet, but Fox hopes to part you from $34.99 for this set, which includes new bonus materials and a snazzy slipcase suitable for breaking over someone's head in your quest for enlightenment.
Edward Norton plays Fight Club's unnamed protagonist, who finds new purpose in life after a gas explosion destroys his apartment full of Ikea and he meets an anarchic soap salesman named Tyler Durden (Brad Pitt). Together the two form a network of underground clubs where men can reconnect with their suppressed primal masculinity by beating the ever-loving shit out of each other. However, as Fight Club spreads nation-wide, Norton's character begins to question the end-game, and just who the hell Tyler Durden really is.
The Blu-Ray is fairly packed with special features, including new material alongside what looks like the full complement of features from the two-disc special edition from a few years back. Here's the full run-down, and remember: if this is your first night at Fight Club, you have to fight.
Welcome to Fight Club
Angel Face's Beating
The Crash
Tyler's Goodbye
New Flogging Fight Club
New Insomniac Mode: I Am Jack's Search Index, Commentary Log, Topic Search
Behind the Scenes Vignettes: Production, Visual Effects, On Location
Edward Norton Interview
Commentary by David Fincher
Commentary by David Fincher, Brad Pitt, Edward Norton and Helena Bonham Carter
Commentary by Chuck Palahniuk and Jim Uhls
Commentary by Alex McDowell, Jeff Cronenweth, Michael Kaplan and Kevin Haug
Seven Deleted Scenes and Alternate Scenes
Trailer Farm – Theatrical Teaser, Theatrical Trailer, The Eight Rules of Fight Club
12 TV Spots
Public Service Announcements
Music Video
Five Internet Spots
Promotional Gallery
Art Gallery
Image 1 of 4
Image 2 of 4
Image 3 of 4
Image 4 of 4
Your Daily Blend of Entertainment News
Thank you for signing up to CinemaBlend. You will receive a verification email shortly.
There was a problem. Please refresh the page and try again.