Pirates Porn Tries To Be Mainstream... Again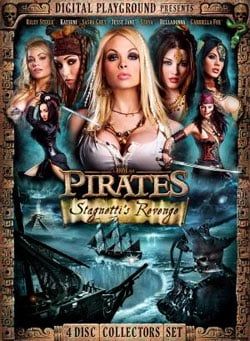 While we're worried about whether or not we should even be allowed to use the word "retard" in movies like Tropic Thunder, the porn industry is actually flat out screwing the mentally handicapped… apparently. It's all in the trailer for Pirates II.
Maybe you remember a few years ago there was a bunch of noise over the release of a generically named porn movie called Pirates. It was porn, yes, but it was also a massive, big budget movie with big budget special effects. In fact, it was also released in an R-rated, mainstream version (somehow they edited out the sex), and both versions, porn and non-porn set all kinds of crazy sales records.
As with anything that makes a lot of money, now there's a sequel. Like the first one, the follow-up is a big budget affair, packed with all kinds of special effects. Over 600 special effects shot sin all. It's called Pirates II: Stagnetti's Revenge, and the movie's first trailer has just been released. Like the original movie, this one will be released both R-rated and… whatever rating it is they're using on hardcore porn these days. Let's call it XXX. Since they're doing a mainstream version, well I guess that's our excuse to cover porn. Happy day.
You can watch the non-sex trailer for the R-rated version of Pirates II below, for the hardcore, porned up version you'll have to hit their official site… which is definitely not safe for work. Stagnetti's Revenge will be available worldwide, presumably in lonely hotel rooms and dimly lit DVD stores, on September 27th.
Your Daily Blend of Entertainment News