Rabbit Hole Falls A Little Closer To DVD Release Date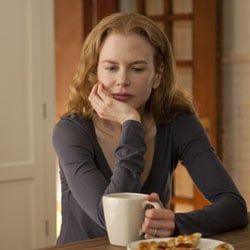 Rabbit Hole is still slipping and a sliding its way through independent film theaters, but Lionsgate Home Entertainment has announced they are quite ready for a DVD and Blu-Ray release of the film. Rabbit Hole follows the story of a couple (Aaron Eckhart and Nicole Kidman) facing the realities of life after the death of their child. The film was directed by weirdo John Cameron Mitchell, of Short Bus fame, so don't expect Rabbit Hole to be anything less than a little strange.
If you aren't put off by a bit of oddity, Rabbit Hole will be available for purchase on April 19th. In truly peculiar form, neither the DVD or Blu-Ray will be chock full of special features. Both will come with audio commentary from Mitchell, as well as writer David Lindsay-Abaire and director of photography Frank G. DeMarco. Other than that, all you'll be given is a theatrical trailer and deleted scenes.
Sparse features for a sparse budget, I'd guess. Don't let that fool you. Even if you have to tango with a precipice, check this film out.
Image 1 of 2
Image 2 of 2
Your Daily Blend of Entertainment News
Thank you for signing up to CinemaBlend. You will receive a verification email shortly.
There was a problem. Please refresh the page and try again.