Remember Samantha Who With The Complete Second Season On DVD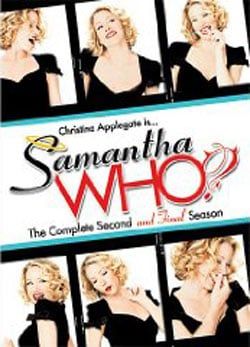 All good things must come to an end, and that's exactly what happened with ABC's Samantha Who? The show's demise is likely due to a timeslot change switching its lead-in from the extremely successful Dancing with the Stars to the comedy In the Motherhood, which was pulled from the lineup after just five episodes. It may not have gotten the run it deserved, but you can keep the show alive when Samantha Who?: The Complete Second and Final Season is released on DVD August 25th.
Samantha Newly (Christina Applegate) is 30 years old and a successful vice president of a real-estate firm. Sadly, she is a victim of a hit-and-run accident and winds up with a form of amnesia that causes her to forget everything that occurred before the incident. After she recovers and gets back into the swing of things, Samantha learns her tactics in the office and in life in general are a little on the harsh side. Determined to right all the wrong she had done before the accident, Sam attempts to lead a better life and improve relationships with those around her, including her parents (Kevin Dunn and Jean Smart), her friend Andrea (Jennifer Esposito), and her ex-boyfriend Todd (Barry Watson).
Samantha Who?: The Complete Second and Final Season is a three-disc set including 20 episodes. Special features include deleted scenes; bloopers; a set tour with Applegate; "Christina Dance Moment"; and "Girl Chat" with Applegate, Melissa McCarthy, and Esposito.
If you've already got the first season on DVD, the second would be a respectable purchase at $39.99. Otherwise, I'd hold off and see if a series box-set hit shelves in the near future. This set comes with a nice selection of bonus material, but if a complete series release is in the works, odds are it'll come with a more impressive line-up.
Your Daily Blend of Entertainment News
Staff Writer for CinemaBlend.