Scantily Clad Trailer And Images For Van Wilder: Freshman Year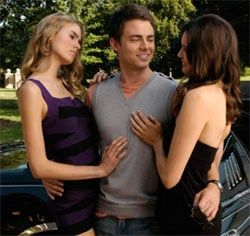 Van Wilder is getting another sequel. The good news is that it can't possibly be worse than the first sequel, Van Wilder: The Rise of Taj. If nothing else, this new Ryan Reynoldless follow-up titled Van Wilder: Freshman Year, looks like it'll get at least one thing right: Hot girls. Lots and lots of scantily clad hot girls.
Below we have tons of stills, cover art, dvd release details, and the first ever trailer for the film, which it seems is a prequel. Discover what Van Wilder's first year at college was all about, by digging into the trailer and info below. Look for Van Wilder: Freshman Year on DVD July 14th.
DVD Features:
The Van Wilder: Freshman Year DVD is presented in widescreen enhanced for 16:9 televisions with Dolby Digital English 5.1 Surround, and English, French and Spanish subtitles. Total runtime is 100 minutes. Gut-busting bonus features include:
• Commentary with Director Harv Glazer and cast
• Creating the Legend: The Making of Van Wilder: Freshman Year
• Going Balls Out: Colossus
• Coolidge College: Orientation Video
• Decatur
• Teacher's Pets
• Bloopers
• Van's Party Supplies (unrated)
• Pranks 101 (unrated)
Image 1 of 18
Your Daily Blend of Entertainment News