Supernatural Goes Anime This Summer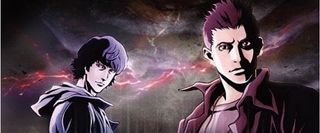 Fans of the Brothers Winchester won't have to wait all summer for new adventures once the sixth season finale rolls around this May 20th. Warner Bros. Home Video has announced a July 26th release date for Supernatural: The Anime Series, which will bring you 22 new animated adventures of the monster-slaying, road-tripping siblings. The Anime Series will list for $54.97 on Blu-ray and $49.98 on DVD, and will also be available via On Demand and as a download.
The 22 episodes of Supernatural: The Anime Series are designed to parallel the plotlines of Supernatural's first two seasons, so Sam and Dean will still be in search of their missing father and the yellow-eyed demon who has been bedeviling their family from the beginning. Supernatural actor Jared Padalecki voices Sam on all 22 episodes. However, it seems his TV brother didn't have as free a schedule. Jensen Ackles does lend his voice to some of the episodes as Dean, but not to all of them. That's going to have to be an odd experience, hearing Sam swapping dialogue with Bizarro Dean.
Fortunately, both actors will get more face time in the bonus features. Ackles and Padalecki provide video introductions to each of the episodes, and are also included in interviews alongside Supernatural creator Eric Kripke and Anime Series directors Shigeyuki Miya and Atsuko Ishizuka. The set will also sport a behind-the-scenes "Making of Supernatural: The Anime Series" featurette.
All in all, it sounds like a good way for Supernatural fans to spend their summer, and an interesting experiment, to boot. While animated spin-offs of live-action properties are common, it's rare that you see something this expansive. Somebody crank up the AC/DC and let's kill some chupacabra.
Your Daily Blend of Entertainment News
Thank you for signing up to CinemaBlend. You will receive a verification email shortly.
There was a problem. Please refresh the page and try again.