Swing Into The Election With Swing State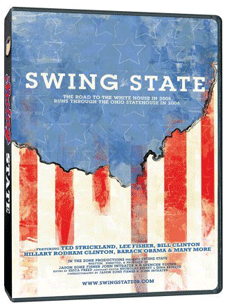 Now that it's officially election season, what better way to celebrate than with a political documentary? It's not even November yet but I'm sure you're already tired of election news updates. Refresh your election senses with Swing States, a film that takes you behind the scenes of the 2006 gubernatorial election for the state of Ohio coming to DVD November 4th for $19.98.
Director Jason Zone Fisher takes you along for the ride while he follows his father, Democrat Lee Fisher, as he vies for the Lieutenant Governor position of this battleground state. Not only do you get all of the juicy political details, but you'll also get an up-close and personal look at the emotional elements involved in competing in an election. The film also has a number of interviews with major political figures including Barack Obama, Bill Clinton, Bill Richardson and Madeline Albright. In terms of DVD extras, you'll get 16 deleted scenes, an interview trailer and a tribute to the late Congresswoman Stephanie Tubbs Jones.
I think the news has given me and will continue to give me just about all of the politics I can take, but the familial aspect of this documentary still draws me in. Being that my attention span is rather short when it comes to the hard news of the upcoming presidential election as opposed to movies, maybe this film is exactly what I need to get a better understanding of the process and appreciate its importance. But, then again, I learn a lot of politics from Saturday Night Live anyway.
Staff Writer for CinemaBlend.
Your Daily Blend of Entertainment News
Thank you for signing up to CinemaBlend. You will receive a verification email shortly.
There was a problem. Please refresh the page and try again.