Swords and Sweaty Men Aplenty As Braveheart And Gladiator Hit Blu-Ray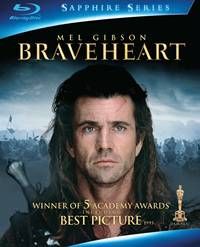 There's been a distinct lack of rugged men wreaking vengeance with edged weapons in our theaters since the whole "swords-and-sandals" craze peaked with 300. Hollywood has moved on to whatever their latest fixation is (toy adaptations?), and we're left with naught but our DVD collections. But while you can always pop Zack Snyder's slow-motion chest-fest into the Blu-ray player, or even such lesser entries as Troy or Kingdom of Heaven, arguably two of the best films in the genre have been AWOL from Blu-ray until now. Thankfully, Paramount Home Entertainment is about to remedy this oversight as Braveheart and Gladiator hit Blu-ray on September 1st.
Both titles will launch Paramount's new Sapphire Series, which will strive to provide the best possible high-def picture quality by relegating the extra features to a second disc. Check out the specs from Paramount's press release:
Braveheart special features:
Production: A comprehensive chronology of the motion picture from conception through theatrical release, from a behind-the-scenes point of view.
Historical: Chronological modules feature Scotland's greatest patriot, along with historical places, figures and events surrounding his life and struggle.
Fiction: A comprehensive timeline identifying the chronological events of the film.
Braveheart: A Look Back – Features new interviews with members of the cast and crew reminiscing about their experiences making the film and its enduring impact on cinema.
Smithfield: Medieval Killing Fields – Relates the remarkable history of Smithfield, which for centuries was regularly filled with the roars of crowds, regal fanfares and rowdy games. Smithfield is also known as the site of William Wallace's execution, along with other terrifying spectacles when heretics, rebels and criminals were put to death.
Battlefields of the Scottish Revolution – Two major Scottish battlefields, Falkirk and Bannockburn, will be presented as 3D models that can be explored for further investigation into the military strategies and timetables employed in each. Topography, weapons, troop movements, and leadership data can also be accessed. An alternate playing mode will allow the story of each battle to unfold in an "automated" fashion, much like the interactive dioramas displayed at historical site museums around the world.
Gladiator special features:
Audio Commentary – Two separate commentaries accompany the original theatrical version and extended version of the film.
The Scrolls of Knowledge – The original trivia track has been newly enhanced with focus points allowing viewers to access a series of new behind-the-scenes featurettes exploring key scenes and how they relate to the historical accuracy depicted in the film. The extended version of the film also includes a deleted scene marker.
Visions From Elysium: Topic Marker – Viewers can tag moments of interest throughout either version of the film, allowing them to create "shopping lists" of topics to learn more about. Thanks to the Blu-ray player's memory, the topics will automatically be loaded when Disc 2 is inserted, giving viewers immediate access to featurettes and galleries of interest.
Strength And Honor: Creating the World of Gladiator – The definitive documentary on the origin, production, and impact of the Oscar-winning classic. The documentary includes an all-new Enhanced Viewing Mode allowing viewers access to additional interviews and behind-the-scenes material.
The Making of Gladiator – HBO First Look special.
Gladiator Games: The Roman Bloodsport – Learning Channel special.
Hans Zimmer: Scoring Gladiator – An exploration of the rousing soundtrack.
My Gladiator Journal – Personal diary of the young actor who played Lucius.
Image & Design – Featurettes and galleries covering the production design, storyboards, costumes and more.
Abandoned Sequences & Deleted Scenes
VFX Explorations: Germania & Rome – Shot deconstruction with the visual effects artists.
Your Daily Blend of Entertainment News
Thank you for signing up to CinemaBlend. You will receive a verification email shortly.
There was a problem. Please refresh the page and try again.