Up In The Air Lands On DVD March 9th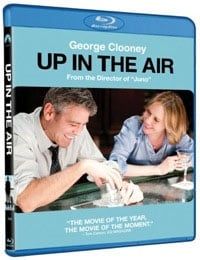 I wonder if Ryan Bingham's rules for getting through airport security apply to store lines as well. If so, you're going to want to keep this in mind when Up In The Air arrives on DVD and Blu-ray March 9th: "Never get behind old people. Their bodies are littered with hidden metal and they never seem to appreciate how little time they have left. Bingo, Asians. They pack light, travel efficiently, and they have a thing for slip-on shoes. Gotta love 'em."
Ryan (George Clooney) likes to keep busy, so busy in fact that he never goes home. He works for a corporate downsizing company, traveling the country and firing employees for bosses who don't have the nerve to take care of business themselves. His airtight routine is disturbed when a determined young coworker (Anna Kendrick) suggests a new method of firing via teleconference that will ultimately do away with in-person jobs and therefore Ryan's sky-high haven.
If you're a movie fan, you don't take a pass on picking up a film that's got six Academy Award nominations.. Up In The Air is light-hearted yet profound, an all-around immensely enjoyable film. You won't be able to get enough of it and Paramount Home Entertainment knows it. According to the press release, the DVD and BD come with a massive special features menu. On top of that, they're both recession proof. The DVD edition costs just $19.99 and the BD only $29.99.
DVD Bonus Material
Commentary by writer/director Jason Reitman, director of photography Eric Steelberg, and first assistant director Jason Blumenfeld
Shadowplay: Before the Story
To Know Me Is to Fly With Me
Real People Firing and Irate Employee
Thumper and Extended Boat Scene
Omaha Montage
Spacesuit
Trailers
Blu-Ray Bonus Material
Everything on the DVD and ...
Do You Live at the Hilton?
Nosey Neighbor
Natalie in Restroom
Natalie Vid-Chats
Angry Ryan Checks In
Goalquest Invite
Maynard Finch Commercial/Kara Calls Ryan
Barely Squeaking By/Natalie Calls
"Help Yourself" music video by Sad Brad (HD)
Storyboards (HD)
American Airlines Prank (HD)
Staff Writer for CinemaBlend.
Your Daily Blend of Entertainment News
Thank you for signing up to CinemaBlend. You will receive a verification email shortly.
There was a problem. Please refresh the page and try again.