New Zealand's 4th Most Popular Folk Parody Duo Is Back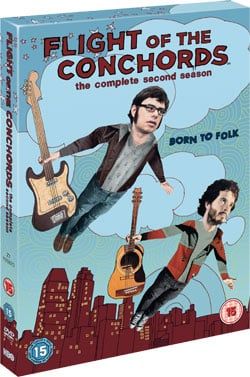 There aren't many people who will turn down a good musical movie, comedy show or episode of American Idol. When HBO Entertainment releases Flight of the Conchords: The Complete Second Season on DVD August 4th, you can have all three in one! There are no cheesy song and dance numbers, ultra vulgar jokes or weekly eliminations, but the show is packed with catchy tunes, awkward moments and even a hint of realism that'll guarantee a good time.
Before they were nabbing Emmy nominations, Jemaine Clement and Bret McKenzie were winning Grammys as a guitar-based comedy duo. Then it was on to a BBC radio series during which they improvised on their real life experience seeking commercial success. In 2007 Bret and Jemaine stepped out from behind the microphone and in front of the camera for the HBO series Flight of the Conchords. Like their radio gig, the show would be loosely based on their attempt to become a successful music group. Jemaine and Bret play themselves, two guys who leave New Zealand to make it big as a novelty folk team in New York City. They're joined by secondary characters including Mel, their only fan and borderline stalker, and Murray, their manager and a New Zealand consulate employee.
Even if you missed out on the show's first season, you'll have no problem jumping on board for the second. Their desperation to attain fame and fortune gets them into heaps of trouble. Not only do the boys form a gang to protect themselves from ruthless rappers they dissed in their music, but they also decide to make a serious investment, buying a second coffee cup for their apartment. They take the absurdity of everyday life, give it a beat and make their misfortunes hilarious.
The 2-disc set also features an impressive list of bonus material. You get 23 minutes of deleted scenes, Dave's Pawn Shop commercials, "Flight of the Conchords; Taking Off," "Easter Egg: Doggie Dance" and, most importantly, eight beautiful minutes of outtakes all for just $29.98. Considering the majority of TV shows released on DVD require much more cash than most of us have lying around, it's pretty refreshing to have an entire season available for under $30.00 and a good one at that.
Staff Writer for CinemaBlend.
Your Daily Blend of Entertainment News
Thank you for signing up to CinemaBlend. You will receive a verification email shortly.
There was a problem. Please refresh the page and try again.