007 Blood Stone And Goldeneye 007 Now Available For Major Game Systems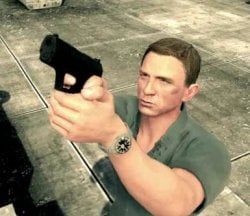 Activision has announced that both of their James Bond games, for just about every gaming device out there, is sitting pretty on store shelves. That's right, James Bond 007 Blood Stone and Goldeneye 007 are now both officially available at local retailers for your favorite gaming consoles.
David Pokress, Head of Marketing for Licensed Properties, Activision Publishing commented in the press release about both games, saying…
007 Blood Stone is a third-person action shooter with dynamic fighting combat and driving sequences aimed at mirroring the 007 experience. Goldeneye 007 is a first-person shooter made exclusively for Wii, based on a remake of the N64 game of the same name.
You can grab a copy of 007 Blood Stone for the Xbox 360 or PS3 for $59.99 or pick up a copy of Goldeneye 007 for the Wii for only $49.99. For more info on either game be sure to visit the Official Website.
Your Daily Blend of Entertainment News
Staff Writer at CinemaBlend.