What The South Park: The Fractured But Whole Coon Mobile Bundle Will Include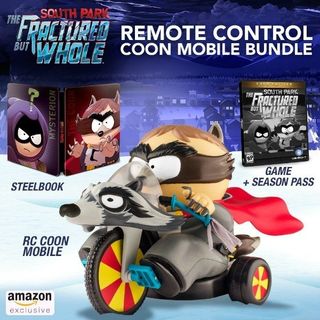 The most recent edition to be announced for South Park: The Fractured But Whole is the overly expensive Mobile Coon Bundle, and it just might be worth the money.
The South Park: The Fractured But Whole Mobile Coon Bundle will be a whopping $190, but it comes with a steelbook case, the game and the season pass and an awesome RC car starring Eric Cartman as his alter ego, The Coon. It is important to note that the Mobile Coon Bundle, as seen in the picture below, is an Amazon exclusive, so you only get it if you pre-order through Amazon.
The three other editions already announced for South Park: The Fractured But Whole include the Gold Edition, Steelbook Gold Edition and the Collector's Edition. The Gold Edition comes with the game, the season pass, in-game costumes and a bonus perk, and if you pre-order: Towelie as your gaming buddy. The Gold Steelbook Edition will include everything in the Gold Edition, plus the steel book case and a set of lithographic prints of South Park art. And the Collector's Edition will include in-game costumes and bonus perk, the art prints of South Park, and a 6-inch replica of Eric Cartman's Coon character.
I've been a South Park fan for a very long time but unfortunately, I haven't played any of the South Park games. And it's too bad because I've heard great things about it. Hopefully with this new title coming out, I can finally jump on the bandwagon because as a fan of the show, I'm sure I'll enjoy the game just as much.
South Park: The Fractured But Whole will be releasing on December 6 this year onto PS4, Xbox One and PC. You can pre-order the game at the official website, along with the other editions mentioned in this article. But to pre-order the Mobile Coon Bundle, check out the Amazon page.
Your Daily Blend of Entertainment News