Watch George Takei Learn To Play Pokemon Go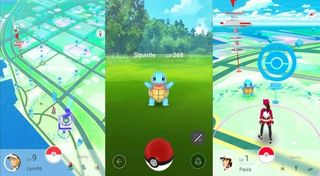 Star Trek alum George Takei has taken a dive into Pokemon Go, strolling through Central Park in New York City while attempting to catch Pokemon and become a master trainer. There's a lengthy video available of Takei with his friend Matt, learning a thing or two about the game.
The video was posted up over on George Takei's official Facebook page, and the video clocks in at 20 minutes long. Takei and his friend were decked out in Pokemon paraphernalia, with hats and backpacks and shirts while they traveled through Central Park.
A large portion of the video is Takei explaining things like staying hydrated, wearing suntan lotion, taking care of your skin, being cautious and conscious while out and about, as well as staying healthy and getting out to walk and maintain physical fitness.
Pokemon Go is more like a side character in the video journey above. Within the first 10 minutes Takei manages to catch a Rattata, which is one of the common Pokemon that you'll find sprinkled throughout the environments you venture to while playing the game. Takei doesn't seem too impressed with the Rattata, but he does jokingly ask if it's possible to "eat it".
Interestingly enough, they discuss some of the harrowing exploits people have encountered while playing Pokemon Go and Takei's guide suggests to always bring a partner with you while traveling around and playing the game. This prompts Takei to launch into an anecdote about traveling through Central Park back in the 1960s and in order to protect himself while traveling alone in the park, Takei would recite lines from the play he was in while raging and sometimes throwing out martial arts poses. The whole theatrics was to make people think he was a crazy, angry, raging karate master so that they would leave him alone while traveling through Central Park at night.
While Takei's method may have been a brilliant makeshift solution for his situation, it wasn't something other Pokemon Go players came up with when they were led into remote parts of town and robbed by armed men. Situations like that have popped up infrequently as people travel around playing the game.
In Takei's case, they didn't run into trouble while walking through Central Park, but they did have some difficulty in trying to catch some of the Pokemon in the game. A Bellsprout gave the traveling duo a bit of problem as they spent a couple of minutes trying to catch it... it was a bit light on its feet.
The video managed to spread across Facebook rather quickly, garnering more than 2.1 million views since going live back on July 28th. It's been shared more than 15,000 times and continues to gain a lot of shares and a lot of attention on social media.
It basically just goes to show that a lot of people love Pokemon Go, and now even Captain Sulu has managed to take a dive into the wonderful world of Pokemon thanks to the popularity of the mobile app.
Your Daily Blend of Entertainment News
Staff Writer at CinemaBlend.