Pokemon Go Plus Accessory: Everything You Need To Know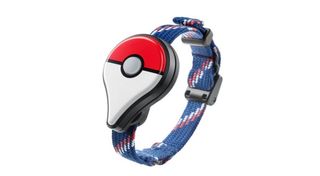 (Image credit: Nintendo)
Nintendo has managed to hit it big with the release of Pokemon Go, a mobile phenomenon that is taking the smartphone market by storm. Well, they have another accessory on the way called the Pokemon Go Plus, and it could help change the landscape of the way you play the game. We'll cover the Pokemon Go Plus accessory and tell you everything you need to know about it.
Pokemon Go has released already over in New Zealand, Australia and the United States. It's scheduled to launch soon in other regions as well, including Japan, Canada and certain parts of Europe. The app allows users to go around to real-world locations and capture Pokemon, after users create their Pokemon trainer. Different locations contain different types of the pocket monsters, and various hotspots work as PokeStops or gyms where players can unlock new abilities or restock on supplies. So how does Pokemon Go Plus tie into this, and what does it do? Well, I'm glad you asked because we have a few answers.
What Is The Pokemon Go Plus?
Nintendo announced the new accessory last year, in the summer. It's a wrist-sized device that straps onto your lower arm like a watch. It's a companion accessory for the main Pokemon Go mobile application, meant to make it easy to find, spot and capture Pokemon without even opening up your phone. It's also designed to be used by young kids and older people alike, with no room for discrimination. You simply strap the device on, and you're good to go, or you can clip it to your clothes or bag. You don't have to worry about any complex means of putting it on or fastening it up, it works just like putting on a watch.
The Pokemon Go Plus is designed and manufactured by Nintendo to look like a Poke Ball, the typical devices used by Pokemon trainers to capture the little critters. It has a white and red color scheme and a simple button in the center that performs all of its major actions. It doesn't have any screens or active touch functionality on any other part of its design. Nintendo wanted to keep it simple while also keeping it highly functional, as detailed over on IGN. It also has a multi-colored wrist strap to keep it securely in place when worn. Alternatively it's possible to detach it from the strap and simply carry it around in your pocket as a simple push device when you're out and about on town... or maybe if you don't want everyone to know that you're an avid Pokemon Go player.
What features Does It Have?
The most important thing about the Pokemon Go Plus accessory is its functionality and features. So, while we know that the companion accessory works in conjunction with Pokemon Go, I'm sure a lot of people are curious as to what it actually does. Well, if you have a smartphone and a free copy of Pokemon Go, you can pair up your Pokemon Go Plus accessory via a low-energy Bluetooth with your smartphone and the game itself. Once paired up, the Go Plus device is ready to be used.
As detailed over on the Pokemon Go website, Nintendo breaks down what you can use the device for, including being able to spot Pokemon when you don't have your phone out. When a catchable Pokemon is nearby the Go Plus will flash a specific color and send a vibration through the device, so even if you have it in your pocket you will feel it vibrating. You can press the center button to throw a Poke Ball to attempt to capture nearby Pokemon automatically, assuming you have already captured that Pokemon before. The Pokemon Go Plus will also flash and vibrate when you pass by a PokeStop, allowing you to stop and quickly use the phone to swipe or tap new items into your inventory, if any are available, including Berries, Eggs and Poke Balls. You'll also be able to search for items at PokeStops by pressing the button if you're nearby, making it convenient to search for new items or capture Pokemon without whipping out your phone.
What Devices Pokemon Go Plus Is Compatible With
Just because you have a smartphone doesn't mean it will be compatible with the Pokemon Go Plus. You will need at least iOS 8.0 or higher to run the base Pokemon Go app and to pair it up with the Go Plus accessory, according to the iTunes App Store page. For Apple aficionados, the device is compatible with the app running on the iPhone, the iPad and even the iPod Touch. For Android users, you will need at least version 4.4 to run the app, which is dubbed as KitKat, as outlined on the Google Play store. Anyone who has a newer version of 4.4, such as 4.4.2 or 4.4.4 and a device that can handle those versions of the mobile operating system will be able to run both Pokemon Go and the Go Plus Accessory.
Even though the accessory can make use of the Pokemon Go app without actually bringing the phone out, there is a bit of a caveat with its compatibility with smart devices. You'll have to keep the Bluetooth active on your phone, as noted by iDigital Times. It might also be wise to put the phone in low-battery mode while the app is open so that the Pokemon Go Plus can still access the game and capture Pokemon while you're out and about around town. If you're using a newer phone that suffers from quick battery drain, it's something to keep in mind if you plan on getting the Pokemon Go Plus.
How Much Does It Cost?
The price for the Pokemon Go Plus has already been laid out at various retailers, including GameStop. In fact, the price of the Pokemon Go Plus is $34.99... it was announced earlier this month, with a report back on July 1st by U.K., outlet PC Advisor indicating that the device would cost $34.99, well before Nintendo even announced a release date for the device. This sent a lot of people into a frenzy trying to figure out where they could purchase the Pokemon Go Plus from.
However, some people are curious as to why it costs so much? Well, part of the reason is that it's a portable, wireless Bluetooth device. While it doesn't have a touchscreen or any other functional buttons outside of the single button in the center of the device, the low-power Bluetooth signals, Poke Ball design and the ability to perform seemingly simple functions within Pokemon Go itself compelled Nintendo to attach a rather sizable price tag to the device. The various LED colors probably also add to the total costs, but for the most part Nintendo oftentimes tries to sell most of their hardware and accessories at a profit, and the Pokemon Go Plus is no different.
Where Is It Available For Purchase?
One of the most important questions is where Pokemon trainers and Pokemon trainer wannabes will be able to pick up their own version of the Pokemon Go Plus? Polygon is reporting that the only confirmed retailer in North America, for now, is GameStop, where it will be available for $34.99. Gamers and casuals alike will be able to head into their local GameStop and pick up a device for someone they know or for themselves. They don't say exactly how many will be available in stock per store, but given the popularity of Pokemon Go it's not unlikely that the device will be stocked aplenty to cater to strong demand.
However, it is currently listed on Amazon, if you're hoping to order it online. Just like with GameStop, they don't list how many of the Pokemon Go Plus devices will be in stock, and pre-ordering is currently unavailable, leaving potential customers to wait until Amazon is fully stocked before they'll have an idea of what to expect from the supply. Also expect a lot of third-party resellers to have them on hand when they do finally become available. For now, other retailers haven't made announcements yet for carrying Pokemon Go Plus, but expect more retailers to join in as the release of the device nears.
When Will It Be Available?
Another important question about the Pokemon Go Plus is availability. While we know that some retailers will be carrying the device, a lot of people are more curious as to when the device will be available. According to Nintendo creative director Shigeru Miyamoto, he had announced that Pokemon Go would launch before the Pokemon Go Plus and that the Pokemon Go Plus would be out before July ended. One of those things have already come to pass, the other is still up in the air.
While Pokemon Go has already released for mobile phones and tablets, a lot of people are now wondering how long they'll have to wait for the Pokemon Go Plus to be made available at their favorite retailer or online outlet. Well, July 31st seems to be the target date that most people are hovering around. There's no full confirmation that the July date is a verifiable date since Nintendo has been mum on that news, but Miyamoto seemed confident that the device would be available to Nintendo fans and Pokemon trainers on the go alike, as reported by HNGN. GameStop also has a tentative July 31st, 2016 date on hand if you check the availability page of the Pokemon Go Plus.
Pre-Ordering The Pokemon Go Plus
With the news about the release date fast approaching a lot of people have resolved to pre-ordering the Pokemon Go Plus accessory. Are pre-orders even available? Yes, they are. According to Gotta Be Mobile, Nintendo has opened up pre-orders for the Pokemon Go Plus, allowing gamers to be able to set some money aside to pick up the device ahead of its official release.
So how do you go about pre-ordering it? Well, you can actually pre-order the device from Amazon, GameStop or even the official Nintendo store. Pre-ordering is pretty simple, as it involves adding the Pokemon Go accessory to the cart and checking out. Once the device is made available in your region, it will be shipped out to your location, saving you the time and energy of having to go shop around for the Go Plus wearable at your local retailer or trying to find an available device at a local retailer. Plus, it means less time shopping and more time playing Pokemon Go. Pre-orders simplify the process of getting your hands on this hot topic item, assuming that the places that offer pre-orders still have the pre-order option up and available for use.
Pokemon Go Plus All Sold Out?
While the topic of pre-orders centers around getting your hands on a copy of the game before anyone else, the one thing you have to consider is that pre-orders can sell out. Yes, outlets can run out of supply before they even get them in. In the case of the Pokemon Go Plus, the device is actually already sold out from the aforementioned e-tailers and retailers.
How did it sell out so fast? Well, because millions and millions of people have already downloaded and played Pokemon Go and now they want to get their hands on Pokemon without always whipping out their phone or having to check the phone every time they get near a potential item. Such gamers have already resolved to pre-ordering the Pokemon Go Plus, resulting in it being sold out at GameStop, Nintendo's official store and Amazon, as reported by Mac Rumors. If you check the Amazon store at the time of writing of this article, you'll see that the device "currently unavailable. If you head over to GameStop's website, it says the exact same thing.
Pokemon Go Plus Auction Prices
Given that the device has managed to sell out at so many places around the web, a lot of people are turning to pre-ordering the game from auction sites such as eBay. This is rarely ever a wise thing to do given that the prices are always skyrocketed compared to what you would usually pay for them. Sure enough, sites like GameSpot are reporting that the Pokemon Go Plus are already sold out and are being sold as pre-orders through places like eBay.
While some of the auction prices are somewhat decently priced around the same retail value that Nintendo has attributed to the Pokemon Go Plus, other resellers are attempting to go for the throat of the wallet, charging up to $385 for some of the devices. This is a pretty steep incline from what it normally costs. Some listings are also showing that the Pokemon Go Plus won't ship out until the end of August, as late as August 27th. While auctions might seem like a nice way to go to get your hands on a Pokemon Go Plus before everyone else, you'll have to be prepared to pay a hefty sum if you go that route.
Do You Really Need Pokemon Go Plus?
Of course, at the end of the day you still have to ask if this is all worth it? Is paying upward of $385 worth what the Pokemon Go Plus has to offer? A lot of it depends on what you plan on using the device for and how serious of a Pokemon Go player you are. For die-hard fans who absolutely cannot stop playing, the Pokemon Go Plus might be useful to have for those people. But how about for the average player?
For $35 it seems like a steep price to pay just to be alerted about Poke Balls, items or Pokemon in the vicinity that you may have already captured in Pokemon Go. While the alerts would be nice to have as a convenience, even $35 seems a little excessive for that end. For casual players simply looking to enjoy the game and not have to worry about everything else going on, the Pokemon Go Plus wrist accessory doesn't seem like a necessary item to have. It's definitely something people might want who prefer to conserve their battery on their smart device while also collecting items and Pokemon, though.
The Benefits Of Pokemon Go Plus
At the end of the day the price, the pre-ordering, the auctions, the availability... all of that comes into question in regards to the pros and cons of having the Pokemon Go Plus. There are some benefits to having it on hand, such as the low-powered Bluetooth support so you're not constantly draining your phone while capturing Pokemon or just walking from one location to the next. It's also a great way to enjoy the sites around you without having to keep your head tucked into your phone or tablet the entire time.
Also, as pointed out on the Pokemon Goers Tumblr, some people might want to use the device as way to express their allegiance to a Pokemon guild by wearing a specific, customized Go Plus accessory, and in that regard the accessory may have more value than what some people might have originally thought. There's also the use of the device as a way to express personal tastes or style. Some places like eBay are already selling pre-orders for customized Pokemon Go Plus accessories, so it's not hard to see how Pokemon guilds in real life might use these customized accessories to help identify with one another, even if it's just on a superficial level. That's also not discounting the fact that you can still use the device to capture items and Pokemon without keeping your phone actively open. So at the end of the day, it's still a battery saver.
Your Daily Blend of Entertainment News
Staff Writer at CinemaBlend.