Here's Who's Behind The Tech Of The Nintendo Switch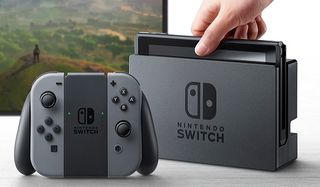 While Nintendo is clearly the mad scientist behind the upcoming Switch console, it turns out that they had an assistant in the lab, providing much of the technological wizardry needed to make the machine possible.
Earlier today, Nintendo unveiled its ambitious new console/portable hybrid, the Switch. As seen in the announcement trailer, the device allows folks to play Nintendo games while sitting on the couch or, with minimal effort, on the go as well. As a portable device, the machine features a big central screen and a pair of detachable controllers. These controllers can be used together for single player games or, when broken from the screen, serve as simplified controllers for two players.
If you'd rather game on the couch, however, all you have to do is slide the device into its home dock and, presto, you're now able to play on the big screen.
Obviously, there's some pretty impressive tech at play here and, according to Nintendo, we have the folks at NVIDIA to thank for much of it. They confirmed their involvement later in the day in the form of a news post (opens in new tab), touting how much fun the Nintendo Switch is to play.
According to the announcement, the development of the Switch translates to "500 man-ears of effort," which is a pretty hilarious way to say "we poured a lot of time and effort into this damn thing." This estimate includes all of the basics, such as algorithms, computer architecture, system design, software, game engines, additional peripherals and more. Clearly, a lot of people were involved in the process.
It turns out that the Switch is powered by a custom Tegra processor which includes a NVIDIA GPU they say is based on the same architecture as the "world's top-performing GeForce gaming graphics cards." Sadly, no specs for the Switch were available yet, but, based on what we've seen, it's certainly a far cry more powerful than the Wii U. In the showcase from Nintendo, we saw games like Skyrim and the new Zelda running on the device, as well as games like Splatoon and Mario Kart. It looks like a whole bunch of developers have signed on to develop for the Switch, too, and that much third-party support gives us reason to believe that we are likely looking at a console on par with what Microsoft and Sony currently have to offer.
The announcement from NVIDIA ends with a statement that their tech is integrated into all aspects of the Switch, which makes for a pretty cool collaboration in our books. Here's hoping we get some additional details soon, as we don't want to wait until the console's March 2017 release to find out just how powerful and user friendly this bad boy actually is.
Your Daily Blend of Entertainment News
Staff Writer for CinemaBlend.