Why Bethesda Is Changing How They Handle Game Reviews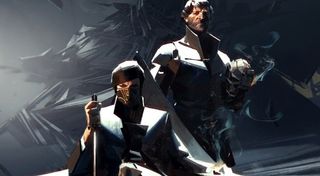 (Image credit: Bethesda)
Bethesda made a diplomatic change in the way they address early access to review copies of their titles following the release of Doom earlier this year for the Xbox One, PS4 and PC. For their upcoming games, they revealed that there won't be early review copies and they explained why they're changing how they handle game reviews.
On the official Bethesda website the company's global content lead, Gary Steinman, wrote cautiously and pedantically about the situation involving the company's stance on review copies, stating that the reason why they won't be sending out early copies anymore is that everyone can enjoy the games at the same time...
It's an interesting decision to make but probably not for the reasons you think. Steinman cites that their experiment with review copies being sent a day before the release of Doom resulted in critical praise and a lot of positive user feedback. That's not to mention that alongside Stellaris the game was one of the top selling PC titles of the month, and it managed to make the top charts for the home consoles as well.
Their reasoning, within the simple post, seems to indicate that having pre-release review copies ready doesn't necessitate that the game's financial, critical and commercial success will hinge upon those early scores. Bethesda has moved into a different position with their games where they seem to think that they can get by on day-of or day-after reviews from the press, and rely mostly on word of mouth, a conservative marketing campaign and the spread of their titles through the YouTube community to help make up for advertising.
It's technically not a bad strategy.
It prevents anyone from breaking embargo when a game has a set release date, and it also prevents any potential co-opting of the game's message to focus on other non-gaming topics, which is what happened recently with a review for Forza Horizon 3, prompting Phil Spencer to express his disappointment in the matter.
However, there's a flip-side to this that also works against the customer. Not having early reviews out means that gamers wanting to pick up the game day-one will have to wait several days after if they aren't sure that the quality of the title lives up to what was advertised, similar to what happened with No Man's Sky by Hello Games, a situation that eventually got the Advertising Standards Agency involved.
Bethesda may be trying to limit their critical appeal to mostly the people who pay for the games and not necessarily those who get free review copies ahead of release. This means that even if some reviewers get a free copy, their review will stand alongside everybody else who also paid to get a copy of the game. There's a bit more meritocracy in the discernment from gamers on whether or not the reviewers are saying anything different from the actual gamers.
With Skyrim: Special Edition and Dishonored 2 set for release soon, we'll see how well this new review strategy by Bethesda works out.
Staff Writer at CinemaBlend.
Your Daily Blend of Entertainment News
Thank you for signing up to CinemaBlend. You will receive a verification email shortly.
There was a problem. Please refresh the page and try again.