Call Of Duty: Infinite Warfare Has A Major Problem On Xbox One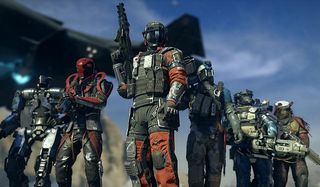 If you've been noticing some weird issues with Call of Duty: Infinite Warfare on the Xbox One, you're not alone. Apparently the version of the game running on Microsoft's home console has some serious frame rate issues that have more than a few gamers frustrated with the holiday season's latest FPS.
News about this issue comes to us directly from the Call of Duty: Infinite Warfare website, which is exactly where you want to get these kinds of details. Rather than see the buzz going around social media with no response from the developer, Infinity Ward has announced that there is indeed an Xbox One frame rate issue and they are indeed working on a fix right now. The team has gone so far as to directly ask players for additional feedback, so, if you're experiencing massive frame rate drops while fighting for humanity's future, head on over to the forums and let your voice be heard.
Only launching this past Friday, an issue on Xbox One does not bode well for the latest Call of Duty, especially since the PC version of the game is experiencing its own difficulties. At this point, it seems like the PlayStation 4 crowd is the only batch of virtual soldiers enjoying the game free of difficulties, but, based on the developer's proactive measures, we're hoping that changes real soon.
According to the post, players on the Xbox One have hit points in the game where there's some seriously noticeable chug in the frame rate department. And that's exactly why the developer is turning to the community for more information. They've got a list of questions they're asking everyone experiencing difficulties in Infinite Warfare to answer in order to pinpoint where the problem might lie. Here's a rundown of the areas they're looking into.
-If you're using a USB headset, can you disconnect and see if the problem still persists?
-If you're using any other microphone, can you disconnect and see if the problem still persists?
-If partied up, are friends in other regions?
-Any particular level or game mode that this happens on?
-How many friends on their friends lists; how many of them are playing the game?
-Are you a user who is using the Xbox in preview mode?
-Is any OS app running while issues occur (i.e. Twitch or any other app?)
-Does the issue go away after going into dashboard (does the game run fine in dash 'window' mode)
-What is the state of free HDD? What percent is free?
-Does the issue occur at certain times or is it persistent?
-Are you in an Xbox Party or in-game party, if any?
-Did the issue start while there was some OS activity ( i.e. private message received / sent )
-Any other special circumstances?
-Please tell us your XBL gamertag.
As one comment points out early on, it's kind of astonishing what can actually cause these issues. Reading this list, we can't help but think, "Wait, THAT can cause frame rate issues?" The post already has hundreds of responses, so hopefully that will help the team get Infinite Warfare back on track with a quickness.
Your Daily Blend of Entertainment News
Staff Writer for CinemaBlend.