What The Last Of Us 2 Will Be About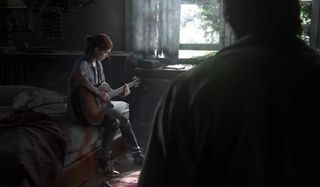 Sony ended its PlayStation Experience live show in a big way yesterday, revealing that The Last of Us: Part II is in the works. While the trailer didn't give us a whole lot to work with in terms of story, the Naughty Dog team later revealed a few more tidbits during a panel.
Neil Druckmann is handling the writing for The Last Of Us Part II, explaining during the panel that several years will have passed since the events of The Last Of Us. Ellie is 19 now, which leaves us wondering what's happened between the two games to warrant the anger we see in her eyes as the trailer closes. According to a report from IGN, it looks like bad blood will be a theme this time around. Druckmann went on to explain that, while The Last of Us was all about love, its follow-up will go in a different direction.
So based on the trailer, we know that Ellie is back and, along with some fresh ink on her right arm, she's getting better at playing the guitar and, based on the bodies lying around, killing people. She's clearly got a revenge mission in mind here, with the trailer closing on her promise to hunt down and kill a whole bunch of people. She's still pretty young, though, so we imagine much of the game's emotional hook will be her discovering what's actually worth fighting for, and at what point you should just be thankful for whatever you can scrape together and simply try to move forward.
We don't have to guess at all of the details, though, as Naughty Dog revealed yesterday that Ellie will be the main playable character for The Last Of Us 2. While she was certainly handy in The Last of Us and even playable in its brilliant DLC chapter, it looks like the follow-up to what many hold as one of the best games of the last generation will feature a severely pissed off Ellie.
Along with the big PSX show and two days of demos on the showroom floor, one of the biggest draws of the PlayStation Experience are the panels, where developers and the like give a behind-the-scenes look at the creation of their games.
During Naughty Dog's panel Saturday afternoon, it's no surprise that the sequel to The Last of US was a hot topic. Again, this was a game that has been frequently hinted at as being in the works but, until we saw that dragonfly spray-painted onto a road sign during the big reveal, we didn't want to count any post-apocalyptic eggs before they hatch.
Sadly, it seems that's about all of the information anyone could squeeze out of Druckmann at the show. There's no release date set, so we wouldn't be surprised if this is a 2018 offering. Still, we're very happy to know another game is coming down the pipeline that likely aims to ruin us on an emotional level.
Your Daily Blend of Entertainment News
Staff Writer for CinemaBlend.
Your Daily Blend of Entertainment News
Thank you for signing up to CinemaBlend. You will receive a verification email shortly.
There was a problem. Please refresh the page and try again.