The Last Of Us 2: What We Know So Far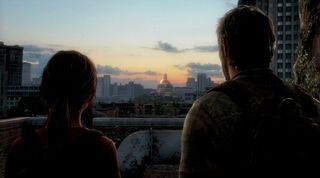 There has been a lot of speculation surrounding the sequel to the PlayStation 4 hit, The Last Of Us. While Naughty Dog, voice actor Nolan North, and creator Neil Druckmann have all had their own slips about whether or not The Last Of Us 2 was actually in development, it was never entirely clear if a game was coming or what sort of priority it was. While there has been some unconfirmed chatter about the supposed sequel, Naughty Dog has finally released a trailer that gives us the first clear idea of what we're going to get. There's still more that we don't know however, so here's a rundown of what we know, and what we think we know, about The Last of Us Part 2.
What We've Seen From The Last Of Us 2
While many questions remained unanswered, there is one place that we can get real information about what The Last of Us 2 is about. Check out the announcement trailer above. It's of a significant length but doesn't tell you a lot, except that the tone of this game may be even darker than the first title. In multiple interviews and Q&A sessions, director Neil Druckmann did reveal that while the game will be a lot darker than the first one in terms of its tone of focusing on "hate," that there would be juxtaposed moments that are hopeful and uplifting as well, which was revealed during a panel at the 2017 PSX event.
What The Last Of Us 2 Will Be About
The Last Of Us Part 2, as we now know it to be called, is confirmed (thanks to the trailer) to follow the story of Joel and Ellie. It's approximately five years after the original game, and around 25 years after the original outbreak that was depicted in the original Last of Us. Ellie has grown into a young woman. We don't see much in the way of plot specifics in the trailer, just dead people, and Ellie playing a mournful song on the guitar. Also, Ellie is angry.
Neil Druckman, who will reprise his role as lead writer and director of The Last of Us Part 2, has confirmed that hate will play a key role in the new game. It's a fitting shift considering that love, the feeling that Joel eventually grows to feel for Ellie, is the major theme of the first game. It's clear that a great deal has happened off screen since the first game ended. Exactly what has made Ellie so angry is not clear, but she apparently wants a lot of people dead and based on the body count we see in the trailer, she's capable of making it all happen.
It wasn't always a guarantee that the new game would directly follow up on the story of Joel and Ellie. Late last year, Neil Druckmann, creative director for The Last Of Us, said in an interview with PlayStation Magazine that they have considered many different directions when talking about creating the story for The Last Of Us 2. Druckmann said,
It seems that the decision was made to keep things more or less the same with The Last of Us Part 2. We see Joel carrying a standard revolver, not any sort of science fiction weapon. There aren't any supernatural elements obvious. It's not even entirely clear that the people we see dead are infected. The one significant change that we know has been made is that this time Ellie will be the primary playable character, not Joel.
It's important to note that Neil Druckmann did say he was brainstorming ideas for The Last Of Us 2 with "new" characters. It seems like, at the time of this brainstorming session, everything was kind of up in the air and not really going in any certain direction. We can trust that a sequel is coming, but what's in store for the story is almost too much to handle. Naughty Dog is a developer famous for their in-depth and highly-consuming storylines, all present in games like Uncharted and The Last Of Us. So, really, the story is what's going to make or break this game. But with Naughty Dog's history with storytelling, it's almost like no one has to worry. Naughty Dog will know just what everyone wants when it comes to the story.
In a Reddit Q&A, Druckmann also stated that if the voice actors for Joel and Ellie (Ashley Johnson and Troy Baker) can't come back to do the sequel, he'd rather go on to create new characters with their own story. Druckmann said in the Reddit AMA,
We're glad to see that they were able to return. We can't really image seeing The Last of Us Part 2 without them either.
How The Last of Us Left Off
In the ending to The Last Of Us, Joel finishes saving Ellie from being operated on for the sake of a cure and eliminates all of humanity's hope for beating the virus. Then when they make it to his brother's wilderness camp, Joel immediately lies to Ellie about the events at the Fireflies outpost, which included him shooting the leader of the Fireflies dead and lying about the events of finding a cure---lied right to her face. Does Ellie know the truth at the beginning of The Last of Us Part 2? We'd guess that we'll learn that answer before the games comes out, but we don't know it now. The bond between Joel and Ellie appears intact, so if she does know the truth she's apparently forgiven him for lying to her.
Ellie
In the original The Last of Us Ellie was a computer-controlled sidekick who's job was to aid you in combat while you did your part to protect her. In The Last of Us Part 2 we know that Ellie will be the primary playable character. She's grown up a few years so she won't be the mostly helpless kid that we saw before. We can tell by the announcement trailer that she's learned how to fight, and how to kill. She's got some blood on her, but there's no evidence that any of it is hers. How else will Ellie change over the course of the game? How much control will the player have over that change?
Joel
Joel will be back in The Last of Us Part 2 but he won't be the character the player controls. It will be interesting to see how he's used. As far as we can tell, he's still perfectly capable of fighting. He's carrying a gun in the trailer, so it won't necessarily make sense for him to simply play sidekick. Will Joel be accompanying Ellie throughout the game at all? It's possible that he won't be, but his absence would create only more questions. We're guessing we won't get a lot in the way of details on this until much later, possibly until we get to see actual gameplay that could be a couple of years from now. Perhaps Ellie will get a new companion or perhaps the plan is for the gameplay to change in some significant way. It's possible Joel's role in The Last of Us Part 2 will be to attempt to dissuade Ellie from following the path of vengeance she has apparently chosen.
The New Characters
The confirmation of the new characters came by way of an all new trailer for the game. This near five minute trailer introduced us to a series of violent events, and a handful of characters, along with a new faction in The Last of Us Part 2. The first major character introduced is Emily, who is part of a religious cult attempting to wipe out sin from the world by expunging it from the physical bodies of people. Emily is portrayed as an antagonist in the five minute cinematic teaser trailer. We also see Yara and Lev, a young brother and sister who were part of the cult but end up turning against them. Yara ends up getting her arm shattered into pieces while Lev comes to her rescue with the bow. A muscular woman who is strung up on a noose remains unnamed for now, but we do know that she's being voiced by veteran voice actor, Laura Bailey. Many fans have been speculating that the unnamed woman is Ellie's mother and that the group led by Emily are attempting to kill her for being pregnant, presumably with Ellie.
Where The Last Of Us Part 2 Takes Place
Naughty Dog teased gamers with some concept art, and even though the developers never said where the sequel would take place, gamers began combing over the concept art looking for all manner of clues. In fact, gamers started breaking down and decomposing the pixels in the concept art to look at the street signs in one of the images, which did reveal a street crossing. Gamers then matched this up with real life street crossings in America, and then began matching up the concept imagery with locations in real life that might have those landmarks at those locations. It turned out that the concept imagery was based on a location in Seattle, Washington. At the PSX event, Neil Druckmann did indeed confirm that the sequel would take place throughout the Seattle area.
The Directors
The original The Last of Us was co-directed by Neil Druckman and Bruce Stanley. While Druckman will be back as the creative director of the sequel as well, it has been reported that Bruce Stanley will not. He is taking some time off from Naughty Dog. It sounds like getting major titles like the original Last of Us and Uncharted 4 out the door has been somewhat exhausting. While it sounds like Stanley being gone from Naughty Dog isn't a long term situation, it does sound like he won't be joining The Last of Us Part 2 when he returns. Whether somebody else will be working alongside Druckman is unclear; it may be a solo endeavor this time around. Druckman seems to have been the driving force behind The Last of Us at least from a public standpoint, so it's hard to see how this change will impact things overall.
The Writers
Along with potentially having a new co-director, The Last of Us Part 2 will also have a new co-writer. Neil Duckman has announced that he is writing the script with Halley Wegryn Gross, a Hollywood screenwriter known for writing multiple episodes of the first season of HBO's Westworld. Gross doesn't have any other video games to her credit as a writer, so it will be interesting to see how she takes to the formula. Based on the fact that Westworld itself has taken a lot of cues from video games like the Bioshock franchise, we can imagine that the process works fairly well going in the other direction as well.
Westworld as a series is one of those that tends to create more questions for the audience than it does answers. It will be interesting to see if The Last of Us Part 2 goes this route. The first game certainly wasn't without its mysteries and twist endings, but now that it's done that, is there really more mystery to explore?
When Is The Last Of Us 2 Expected To Come Out?
It was reported that one of the reasons that development on The Last Of Us Part 2 took so long is because there was a need to focus on the DLC of Uncharted 4. Now that this is done, we're guessing that the bulk of the studio's effort is now on this game. Naughty Dog is a beast when it comes to cranking out amazing games in a short span of time, mostly because people are wholeheartedly loyal to the company and their games, which include The Last Of Us, Uncharted and Crash Bandicoot. New information since the PSX Event has revealed that Naughty Dog is only around 60% complete with The Last of Us Part 2. So this means that we shouldn't expect to see the game on store shelves until maybe the very end of 2018 at the very earliest, or sometime during 2019. A more reasonable date would probably be fall of 2019.
The Fan Theory
Coming off the trailer reveal, many fans are trying to figure out some of the deeper questions that The Last of Us Part 2 will deal with. There is one theory that seems to have very widely been grabbed onto by many different fans. Because Joel is only briefly, and never clearly, seen at the end of the trailer, there's a belief that the people Ellie may be most interested in killing are those responsible for Joel's death. Perhaps his character will be a hallucination that only she can see.
It's not an entirely crazy idea. Based on the events at the end of the original game, there are certainly people who are not happy with Joel, who may have killed him in the period between games in an attempt to get to Ellie. For her part, Ellie would certainly not take an event like that well. First, she would want to kill everybody responsible, which we know she's ready to do, and second, she may have difficulty coming to terms with the reality of the situation. There's not a lot to go on to confirm the theory at this point, but it's an interesting angle to take as we learn more.
Your Daily Blend of Entertainment News
Thank you for signing up to CinemaBlend. You will receive a verification email shortly.
There was a problem. Please refresh the page and try again.