Why One Piece Of Resident Evil 7 DLC Isn't In The Season Pass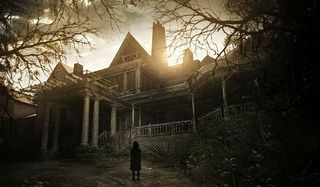 While we now know more about what can be expected out of Resident Evil VII's season pass, we learned today that one piece of DLC will not actually be included in that collection of post-launch content. Of course, we imagine fans will be pretty happy with Capcom's reasons for the exclusion.
Over on VG24/7, they've announced that the Season Pass for Resident Evil VII will not include a piece of DLC called "Not a Hero." It turns out that the reason it won't be available under the umbrella of a season pass is that Capcom will be providing it free of charge. That's certainly a nice change of pace.
The original source of this information is Famitsu, the Japanese weekly games publication. They had no real information on what the DLC will be about other than the fact that Capcom is giving it away gratis. The launch window for the "Not a Hero" DLC is May and it will apparently center on a character other than the main protagonist, Ethan. It's also stated that the gameplay will be very different from the main game but, again, they offer no explanation as to how.
In case you just really, really want to spend more money on RE7, though, then you can still plop down an extra $30 for that season pass. As we reported yesterday, the pass will include a pair of mission collections called "Banned Footage Vol. 1" and "Banned Footage Vol. 2," as well as an extra episode of story content to play through.
What's a bit confusing here is that Capcom specifically says that one of the major pieces of DLC will be an extra story episode, leaving us to wonder what, exactly, those Banned Footage volumes are. If we had to make a guess, we'd put our money on the distinction simply being what is and is not tied to the main story. That "extra story episode" will probably fit into the campaign, though we don't know if it takes place before, during or after the narrative that will be the focus of the main game. As for the Banned Footage, we wouldn't be surprised if it plays exactly like the main game, only maybe it tells some completely detached, though likely still related, stories.
It sounds like they'll be similar to this free DLC that Capcom is promising, maybe even including some of those "different" gameplay elements.
Either way, it's up to you how you want to spend your money, and Capcom throwing a free piece of content in the mix is certainly welcome, but it sure feels weird forking over half the price of a game for content that we honestly have no idea what it will be.
Either way, expect the whole shebang to be available by the end of the year.
Your Daily Blend of Entertainment News
Staff Writer for CinemaBlend.
Your Daily Blend of Entertainment News
Thank you for signing up to CinemaBlend. You will receive a verification email shortly.
There was a problem. Please refresh the page and try again.