The Resident Evil 7 Demo Has Been Updated, Here's What's New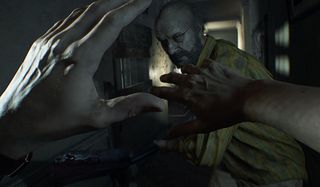 If you're looking to start getting in the Halloween spirit nice and early, perhaps an updated Resident Evil VII demo will provide all of the necessities to get your blood pumping. It's launching today on the PlayStation 4, so turn off the lights and get ready for frights.
Resident Evil VII certainly is an interesting beast. Announced during E3 2016, the game was first playable as a PlayStation VR demo on the show floor, as well as a standard demo on consoles that very same week.
But the original demo left a lot of questions unanswered, despite its short play time. There were a couple of items that appeared to have no purpose for being in the game, as well as an ax that you couldn't use for any known reason.
We're hoping some of those RE mysteries get solved today, as an updated demo is being made available on the PlayStation 4. Not to be confused with the "Lantern" demo on the show floor at Gamescom, this new demo builds on the original, offering some new areas, characters and more.
The details on this new Resident Evil VII demo went live late yesterday on the PlayStation Blog. It builds on the original "Opening Hour" demo and is being referred to as the "Twilight Version."
Along with a few details about the demo, Capcom also released the following trailer, called "TAPE-2 The Bakers." Get ready to meet the family.
According to the announcement, players new to the demo will have a frantic and frightening experience, but players who have already played the original REVII demo will notice changes in the creepy rooms and corridors of the plantation house in Louisiana.
In the images, we see the player pouring a vial of liquid on their hands and a man attacking the player. There's also a look at a familiar TV, which has us wondering if some new flashback segments will be included in the demo. Otherwise, without plowing through the new demo yet, we can't dig too deep into what tricks and treats Capcom has in store for players. They are, appropriately enough, letting folks figure out the finer details on their own.
Resident Evil VII is obviously a huge departure from the regular series, putting the player in the first-person view and looking to build more on tension than action. In a lot of ways, it's far more reminiscent of a Silent Hill game or even the ill-fated P.T., which was itself actually going to be a game in the Silent Hill series.
Since so many fans have been complaining that the series has strayed too far from its horror roots, maybe Resident Evil VII will provide that homecoming folks have been aching for.
Let us know your thoughts on the new demo in the comments below.
Staff Writer for CinemaBlend.