Call Of Duty's New Patch Is Out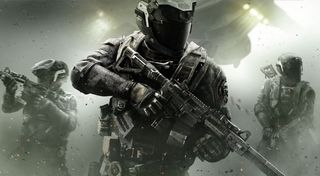 (Image credit: Activision)
Activision and Infinity Ward recently updated Call of Duty: Infinite Warfare for home console and PC gamers, featuring all new content and features for people looking to get more out of the game since its release back in November.
According to Gamespot, update 1.08 has released and a changelog is available featuring many of the new upgrades and updates to the futuristic first-person shooter. One of the major changes includes the new leaderboard system, as well as a variety of other changes. The patch itself clocks in at a rather massive 2GB for PS4 and Xbox One.
One of the big new changes in Call of Duty: Infinite Warfare is the Commander Ranks, which have been introduced for players who complete new missions. For every time a team completes the mission the rank goes up; the higher your rank the better your mission rewards. This also opens up more crafting options, prototype weapons and better bonuses.
They also have bonus XP going on, in addition to the double XP weekend. Gamers playing the Call of Duty Zombies mode will receive 2X XP and 2X weapon XP for multiplayer. This bonus will last all the way up through February 3rd next week, which definitely makes it a lot more beneficial than a typical Call of Duty double XP weekend.
They've also added new Call of Duty World League personalization packs and medals that can be viewed in the Barracks and introduced a number of new general fixes and patches for Call of Duty: Infinite Warfare.
They also added the option to allow players who are playing via local split-screen to individually change their own missions in the lobby before a match starts. They've fixed an issue against jitter mod exploits, and a number of other fixes for certain animations, damage and class editing features.
Call of Duty: Infinite Warfare got off to a really rough start in November. Despite the game making gobs of money -- more-so than anything else in 2016 -- the title ran into a huge problem, where it actually sold 50% less than 2015's Call of Duty: Black Ops 3. The major decline in sales was also compounded with the fact that more people were interested in Battlefield 1 than they were in Activision's sci-fi shooter.
The publisher didn't give up, though. They decided to offer free trial weekends for the single and multiplayer component of Call of Duty: Infinite Warfare and eventually winning back over some gamers.
Infinite Warfare still has a long ways go to before it's on the status of Black Ops 3, but Infinity Ward and Activision aren't giving up, which is why they've been having a bunch of XP weekends, and patching the game regularly.
While you enjoy the XP event there's also going to be some new content releasing for the PS4 version of Call of Duty: Infinite Warfare on January 31st in the form of the next zombie map called Rave in the Redwoods. The Xbox One and PC version of the map, which is part of the Sabotage DLC, will be available at a later date. At least on the bright side there's parity between the patch releases and double XP events.
Your Daily Blend of Entertainment News
Staff Writer at CinemaBlend.
Your Daily Blend of Entertainment News
Thank you for signing up to CinemaBlend. You will receive a verification email shortly.
There was a problem. Please refresh the page and try again.