Planet Coaster Developer Signs A Deal With A Hollywood Studio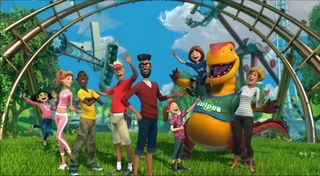 (Image credit: Frontier Developments)
The developer of Planet Coaster, Frontier Developments, has managed to land a licensing deal with a major Hollywood studio. This milestone event recently occurred this past Monday, on February 6th.
The news comes courtesy of a press notice made available on Alliance News, where they reported that Frontier Developments and an unnamed Hollywood Studio have joined forces after Frontier managed to acquire the license of a movie property.
Details on the collaboration are practically nil, other than that Alliance News has reported that Frontier stated that the property licensed is an "enduring movie franchise of global renown". The first thing that came to mind was The Last Starfighter. Mainly because Frontier's David Braben spearheaded the return of space sims with Elite Dangerous, and it would seem like it would make a ton of sense to apply the Elite Dangerous tech to something like The Last Starfighter, but last we heard of that franchise it was trapped in Hollywood's infamous IP purgatory.
Frontier does give a few hints about what's next, noting in the press release that this new IP is an important next step as the third franchise product they've taken on in recent years, with the other two being Elite Dangerous and RollerCoaster Tycoon.
CEO David Braben mentioned that the IP that they have acquired fits their expertise perfectly, and that's precisely why I figured it might be something along the lines of a space-sim.
Some of you might be thinking, "Oh, oh, Tie Fighter!" but no, Frontier doesn't have the capital to spend $100 million on the Star Wars license to acquire the rights from Disney. Right now only Electronic Arts and LEGO have consistently taken the dive to use the Star Wars license. Frontier, however, did have connections with LucasArts before the Disney buyout, having made two games under the LucasArts publishing label before it went kaput.
Of course, knocking Disney out of the running still leaves us with huge and varied possibilities. We do know that Frontier Developments will also be in charge of developing the project, so it's definitely something they're familiar with and not something that they've already produced, developed or worked on in the past, this precludes stuff like Wallace & Gromit.
But, then again, coming off the success of Planet Coaster, maybe we'll see Frontier tackle a movie license that fits into the strategy management genre? For instance, Sony's Hotel Transylvania 3 is due for release in 2018. It seems like the perfect license to turn into a colorful management simulator... possibly.
The thing is, adding the qualifier that it's a world renown franchise and that it fits within Frontier's expertise, it kind of gives us a wide smorgasbord of possibilities. However, if we limit the field to strategy games and space sims, we get a much smaller range of possible licensed properties they could have acquired.
Braben, however, notes that they specifically licensed this "particular IP" because it fits within their creative ecosystem. So, obviously, this doesn't sound like a typical movie-based license game that they're producing as a cash-in title.
Frontier Developments will release additional information about the project later into 2017.
Your Daily Blend of Entertainment News
Staff Writer at CinemaBlend.