Some Of These 1-2-Switch Minigames Are Absolutely Nuts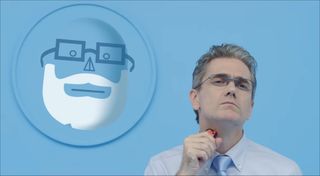 Nintendo released a series of new videos for 1-2-Switch for the Nintendo Switch. There are a number of mini-games on display for the upcoming Nintendo Switch exclusive, which takes a very different approach to competitive gaming.
There are some crazy mini-games in 1-2-Switch for the Nintendo Switch, as showcased on the official Nintendo Japan website. The description at the top of the site explains that players stand face to face staring each other in the eye. It mostly translates to "match eyes to eyes", as in looking at your opponent.
As depicted in the crazy samurai game above, one player has to watch carefully and attempt to catch the sword of their opponent successfully to avoid being sliced in half. It's bizarre but also kind of cool. The samurai mini-game is focused on reflexes and timing as much as it is paying attention to the movement and motion of your opponent. They explain in the description that you stare at each other and then attempt to catch the "naked blade".
Another mini-game for the Nintendo Switch exclusive includes imitating eating a sub sandwich as quickly as possible. The description explains how you hold the Joy-Con at a specific distance from your mouth while it makes use of the IR reader to simulate eating a sub sandwich. The description conveys that players will virtually attempt to get full by using their arms and mouth to eat as many subs as possible.
Another mini-game in 1-2-Switch sees two players attempting to shave as quickly as possible using the Joy-Cons as razors.
None of these games look like fun to me, but I'm sure these will be a blast at get togethers, or while you're out having fun with friends and family, or maybe even courting a stranger with a quick game while you wait for a ride or take the long commute home.
One thing that does entice me is how cool and functionally diverse the Nintendo Switch is with the Joy-Con controllers. Nintendo didn't have to innovate but they did, and not only that but instead of upping the pixel count or competing with frame-rates in the diminishing returns of mediocre looking games with mediocre looking graphics, they decided to try to focus on games that elevate the interaction levels between two players.
Even if 1-2-Switch isn't my kind of game, I can easily see this game selling like crazy. It seems like something casual gamers would absolutely adore. It's a shame we actually haven't been able to see more of ARMS, because despite its simplicity the motion-based fighting seems like it could be pretty fun.
Anyway, if all the crazy mini-games in 1-2-Switch seem like fun to you, you can look to get your hands on the party game pack when the Nintendo Switch launches on March 3rd next month.
Your Daily Blend of Entertainment News
Staff Writer at CinemaBlend.