Marvel Games Won't Be A Part Of MCU Canon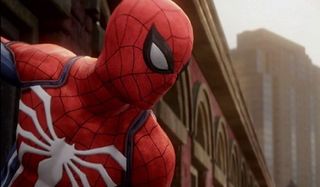 Marvel Games has a lot of plates spinning at partner development studios right now, but keeping everything moving is apparently an easier task than you might think. Despite the fact that many of these games are using popular IPs from the comics and movie space, they're not being treated as canon or held to any particular deadline.
All of that sounds like fantastic news to us, as it sounds like Marvel Games have learned more than a few lessons from years upon years of superhero games and games based on popular movie franchises turning out mediocre in the end. Creative Director Bill Rosemann had a chat with IGN during DICE 2017, where he laid out all of the plans for handling games set in the Marvel universe. Assuming they actually stick to these claims, it sounds like said games are being given all of the room they could possibly need to shine, so long as, you know, they were good to begin with.
In the DICE conversation, Rosemann explained that not only are all of these upcoming Marvel Games being kept separate of other Marvel universes, but they're not being held to any sort of strict release date. In other words, they're trying to give the studios everything they need to instead focus on telling the story they want to tell, while having the time necessary to get a solid final product to market. Rosemann compared the studios to chefs working in the kitchen, adding that Marvel Games wanted them to have all of the "ingredients" necessary to put together a memorable meal.
What that translates to for gamers is the a bunch of Marvel games coming from a bunch of different studios with no particular goal in mind outside of being rad. There's already a pretty impressive list forming, including the Spider-Man game being developed by Insomniac for PlayStation 4, the Guardians of the Galaxy game being developed by Telltale, Marvel Vs. Capcom: Infinite, which is obviously being developed by Capcom, and the Square Enix game focused on The Avengers, which is apparently only one of several games the developer will be making within the Marvel universe.
As Bill Rosemann points out, these are all leveraging current popular Marvel properties, but they aren't directly tied to other projects under their unique umbrellas. He used the white logo on Spider-Man's suit in the Insomniac game as an example, saying that's basically a visual indicator that it's doing its own thing.
Rather than tell developers their games need to tie into the ongoing movies or be timed to come out alongside a film (or worse yet, be a retelling of said film), developers are instead being given a property like The Avengers and being asked to tell their own stories in that world.
The same goes for timing, according to Bill Rosemann. Rather than say "this game needs to come out the week of the film," developers are on no set schedule. In other words, the games will hopefully launch when they are ready.
Your Daily Blend of Entertainment News
Staff Writer for CinemaBlend.