A Version Of NBA Jam May Finally Become Available, Here's How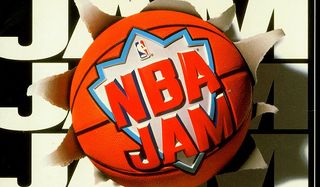 From its legendary commentary to half-court dunks, NBA Jam had everything a basketball-loving gamer could ask for back in the early 90's. Everything except the sport's top player, Michael Jordan, that is. But according to a recent Ask Me Anything with the game's designer, that all might change soon.
The original NBA jam hit arcades back in 1993, eventually making its way onto consoles. A classic sports game, players picked pairs of players from their favorite teams and played over-the-top games of basketball where things like insane physics and basketballs set ablaze were common occurances.
The one thing the original game was missing, though, was the legendary player Michael Jordan. During an AMA on Reddit, designer Mark Turmell opened the floodgates to all things NBA Jam. When asked about the rumored versions of the game that actually included Jordan, and why he was taken out of the arcade releases, Turmell explained that it all had to do with contracts.
According to Turmell, NBA Jam was ready to ship with Jordan included in the roster. He was, after all, the most dynamic and influential player of the day and NBA Jam was even being developed in Chicago, Jordan's home turf.
Unfortunately, mere weeks before the game shipped out, Jordan's contract with Nike basically cut off any other deals he had, meaning he could no longer appear in the game. Apparently it wasn't too big of a deal to nix him from the game and drop in another player, but fans were bummed to discover he was not in the arcade build.
However, a couple of other players who weren't in the game, Gary Payton and Ken Griffey, reached out to the developers and asked if they could get a custom build of the game featuring their likeness. Next thing you know, Jordan was in on the request, wanting a version with him as a playable character, too.
Mark Turell explained that three special EPROMS of the game were made and distributed exclusively to those players. But when asked if he could maybe accidentally drop them onto the internet, Turmell was surprisingly willing.
Later, Polygon caught wind of this story and reached out to Mark Turmell directly. When they asked him what he meant by all of that, the designer explained that he has a cabinet full of EPROMS for games he's worked on and that he's pretty sure he can find the version of NBA Jam with Jordan included in the roster. All of those contract issues are from more than 20 years ago at this point and, since he wouldn't be making a dime off of making the ROMs available, Turmell feels confident he can just make them available.
We hope he's right. The Jordan NBA Jam games are an interesting part of gaming history, and it would be cool if fans new and old could get their hands on something that, until now, only three iconic basketball players were allowed to own.
Your Daily Blend of Entertainment News
Staff Writer for CinemaBlend.