The Future Of Mass Effect Does Not Look Good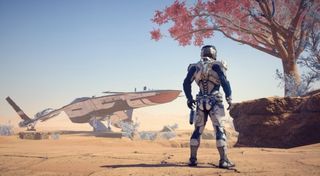 (Image credit: BioWare)
Apparently the negative reception for Mass Effect: Andromeda translated into net negative sales, because it appears as if the future for Mass Effect as a property doesn't look good and neither does the future of BioWare.
According to a report from Kotaku, multiple sources have confirmed to them that development on all things Mass Effect have been brought to cessation, and the BioWare Montreal studio who developed Mass Effect: Andromeda are being moved on to other projects, including helping Motive with the story mode on the highly anticipated and upcoming release of Star Wars: Battlefront II.
The rest of the Montreal team is reportedly being used to help the main BioWare studio work on Dylan, the secret upcoming action-adventure game that is apparently not an RPG. Dylan is said to be a game designed to compete with The Division and Destiny 2. They expect the game to be announced at this year's E3 during the EA Play press conference.
So what does this all mean for the Mass Effect series? Well, apparently EA has it on hiatus for now. And apparently, this means no more DLC for Mass Effect: Andromeda for the foreseeable future.
A lot of gamers were curious if this meant that they wouldn't receive new multiplayer content for Andromeda? The post on Kotaku doesn't really say what's to become of the game's multiplayer, but apparently, just enough of BioWare Montreal will stay attached to the project to continue to issue patches to fix the more troubling aspects of the game.
They did recently release patch 1.06 in order to address more of the animation problems in Mass Effect: Andromeda, along with fixing up some of the cinematics and making a lot of other changes in the improvement of the gameplay and playability, as well as the performance of the game.
EA had praised Mass Effect: Andromeda during the earnings call for their Q4 2017 results, saying that BioWare had really done a great job with the game. However, during that same earnings call the CEO, Andrew Wilson, also announced that they would be delaying BioWare's other project, codenamed Dylan. Wilson explained that the delay for Wilson had nothing to do with the criticisms and feedback for Mass Effect: Andromeda.
The game may have received some middling scores from game reviewers, but a large majority of gamers gave it pretty harsh scores in the user review section on Metacritic for the Xbox One, PS4 and PC versions of the game.
At this point, it appears as if Mass Effect as a series will lay dormant for a while as EA figures out how to approach the brand again after letting it simmer down for a while. Some fans were a bit disappointed because Mass Effect: Andromeda ended on a cliffhanger and they were hoping that a sequel would be in the works. It doesn't appear as if that will be happening anytime soon.
I do wonder if EA does decide to return to Mass Effect in the coming years if they will pick up where Andromeda left off or if they will try their hand at an all-new story?
Staff Writer at CinemaBlend.