Everything You Get With Overwatch's Game Of The Year Edition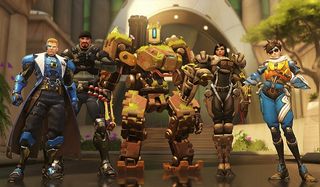 Overwatch is officially celebrating its one-year anniversary, complete with a bunch of in-game goodies, special events and a discounted Game of the Year edition of the hugely popular shooter across all consoles, available now.
We knew that the Game of the Year edition of Overwatch was coming and, according to a Blizzard press release, you can get your hands on it right now for the PlayStation 4, Xbox One and PC. It's a digital-only offer, and it'll set you back just $39.99. If you already have Overwatch but want all of the extra goodies, too, you can drop an extra $9.99 into the game and get yourself an upgrade. It should be worth it, too, especially if you play other Blizzard games. While many of the celebration items are coming straight to Overwatch, Blizzard is bringing its entire stable of games in on the celebration. Here's a rundown of what you can expect in each game.
Overwatch: Enjoy 10 Standard Loot Boxes, each containing a collection of random items that can be used to customize your favorite heroes. Loot Boxes may include skins, emotes, victory poses, voice lines, sprays, and highlight intros, as well as credits you can use to unlock a variety of different customization options.
Overwatch: Origins Skins; Pay homage to the original Overwatch strike force with vintage skins of Blackwatch Reyes for Reaper and Strike-Commander Morrison for Soldier: 76. Explore other heroes' origins with Overgrown Bastion, Security Chief Pharah, and Slipstream Tracer.
Diablo III: Mercy's Wings; Slay demonic forces throughout the High Heavens and Burning Hells while donning Mercy's wings, and all of Sanctuary will know of your allegiance to Overwatch!
StarCraft II: Player Portraits; These picture-perfect portraits of Tracer, Reaper, Pharah, Winston, Bastion, and Soldier: 76 give new meaning to the phrase "Hero of the Koprulu Sector."
Hearthstone: Overwatch Card Back; If you happen to find yourself in a Tavern Brawl, show your opponent you've got backup with an Overwatch-themed card back.
World of Warcraft: Baby Winston Pet; Adorably cuddly and highly intellectual, the Baby Winston pet will be at your side as you fight to extinguish the Burning Legion.
Heroes of the Storm: Tracer Hero; The cavalry's here! Jump into the Nexus with Tracer and surprise your enemies in the blink of an eye.
Obviously, that $39.99 will get you the full Overwatch game, too, complete with the additional characters, maps and modes that have launched over the past year. In short, if you pick up the digital-only GoTY version of Overwatch, you're getting the full package at about 20 bucks off the usual price of just the standard game. Throw in all of that extra loot listed above and, yeah, now would be a good time to dive in if you haven't already.
Also, you'll be just in time for the in-game celebratory events. For the next several weeks, Blizzard will be hosting all kinds of in-game activities to mark Overwatch's first birthday so, again, not a bad time to finally jump on the bandwagon.
Staff Writer for CinemaBlend.
Your Daily Blend of Entertainment News
Thank you for signing up to CinemaBlend. You will receive a verification email shortly.
There was a problem. Please refresh the page and try again.