New Website Shows How Well Overwatch Heroes Are Performing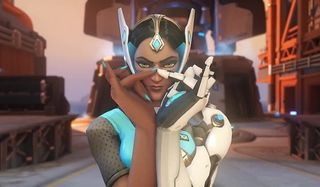 It's fair to say at this point that _Overwatch _is a runaway hit. Loads of players picked up the squad-based FPS on all platforms and, judging by all of the streams, video uploads and buzz around the internet, folks seem to be having a good time. For those number crunchers in the audience, though, there's now a website that will allow you to keep track of what's going on under the hood, including character stats and the like.
Over on Master Overwatch, you can get all sorts of interesting information on every _Overwatch _character, from Bastion on down to Zenyatta. Whether you want to know how well each hero is performing or how you stack up against your fellow players, there's plenty of info on offer here.
Just picking a hero at random, we see that Genji is currently enjoying a win rate of 50.1 percent. He's also the ninth most popular hero with a kill/death ratio of 1.8. Folks are earning a score per minute tally of 127.3 with the cyber ninja and an average damage output of 646 per minute.
The site goes the extra mile to make itself the one-stop-shop for all things Overwatch, though, as each character's page also includes info on all of their abilities, a full readout of their lore and a look at all of the available skins. It's a pretty snazzy setup that's worth a gander for any fan of the game.
Special tabs are also set up for skins and eSports events, as well as extensive leaderboards. There's a set of boards for the PC, Xbox One and PlayStation 4, breaking everything down from score and accuracy to KDR, damage blocked and healing. You can also look at overall stats for score, level and win rate for each platform. I prefer to avoid those types of comparisons for the sake of my fragile ego, but it's all right there in one convenient location for those of you who are curious.
And in case you're curious as to which _Overwatch _characters are doing the best right now, we've perused all of the stats and found that Symmetra is the current top dog. They've got a win rate of 61.7 percent at the moment, putting them just in front of the number two character, Torbjorn, who rests at 61.6 percent. There's a bit of a wider gap to Lucio in third, coming in with a win rate of 57.8 percent. That's actually a pretty great spread, showing that no character drastically outperforms the others. And a win rate of 62 percent doesn't exactly scream OP, either.
On the bottom of the Overwatch totem pole is Mercy, lagging behind at a win rate of 48 percent. Still, going about 50/50 isn't too bad for any one character.
Let us know how you're enjoying _Overwatch _in the comments section below. Fill free to let us know who you're currently maining and why you like them so much.
Staff Writer for CinemaBlend.
Your Daily Blend of Entertainment News
Thank you for signing up to CinemaBlend. You will receive a verification email shortly.
There was a problem. Please refresh the page and try again.