Take-Two Issues A Statement On Mod Shut Down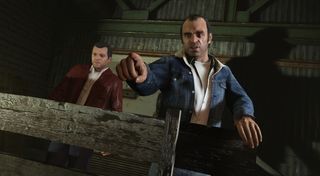 (Image credit: Take-Two Interactive)
Take-Two Interactive has effectively tried to kill off the single-player modding community for GTA V by shutting down the modding tool used to add new content to the game and modify existing content. Well, after a massive backlash, Take-Two finally issued a statement on the ordeal, claiming that the single-player modding tool for GTA V had to be shut down because it was a risk and a hazard for GTA Online players.
Game Informer was sent a quote from a representative for Take-Two Interactive, who explained that the reason Take-Two issued a cease and desist to the OpenIV team was because it was being used by hackers to grief players in GTA Online...
Just to clarify a few things. The statement "OpenIV enables recent malicious mods that allow harassment of players" isn't quite accurate. OpenIV isn't an enabler or an active script loader, it's an extraction and repacking tool for GTA V's encrypted RPF files, it's the equivalent of Winzip or Winrar, but for RPF files.
The RPF files are encrypted files that contain the game's images, meshes, graphic files and general game data. Players use OpenIV to modify textures, or add in crazy new mods like Iron Man, or the Hulk, or the cars from Forza Motorsport or Gran Turismo. The developers behind OpenIV disabled the tool for online use, so it's not possible to modify the game play GTA Online with the tool.
The hacks and mods that Take-Two is referring to affecting GTA Online users relates to script modifiers and dll injectors. The injectors and script modifiers have absolutely nothing to do with OpenIV. Dll injectors or ASI loaders can affect every portion of GTA, including the online portion of the game, and many hackers have been using the ASI trainers to grief other players in GTA Online.
The Game Informer article does note that Take-Two has been going after some of the premium cheat services who offer paid mod menus for players to use in GTA Online.
Additionally, OpenIV has no bearing whatsoever on console hackers, either. OpenIV only runs on PC, whereas console hackers are using modded consoles with trainer scripts to grief players on the Xbox and PlayStation. Shutting down OpenIV does not affect console hackers in any way.
The fact that Take-Two went after the OpenIV team and sent cease and desist letters to them caused a massive backlash in the PC gaming community. The recent Steam user review rating for GTA 5 has now been brought down to an overwhelmingly negative rating after more than 41,000 users have given the game a negative review rating in response to Take-Two going after the single-player modding community.
Some people compared this move to a company like Microsoft banning Notepad because some people may use it to write malicious code. Regardless, this certainly hasn't generated a lot of positive PR, and the lack of information relating to how OpenIV could be used to make hacks or grief players in GTA Online has left a lot of people confused and angry. The developer of the mod won't be pursuing the issue in court due to time and costs, so the future of GTA's modding community rests in the hands of Take-Two.
Your Daily Blend of Entertainment News
Staff Writer at CinemaBlend.
Your Daily Blend of Entertainment News
Thank you for signing up to CinemaBlend. You will receive a verification email shortly.
There was a problem. Please refresh the page and try again.