Why The Protagonists Of Uncharted: The Lost Legacy Make For Intriguing Characters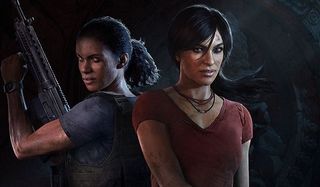 When Uncharted: The Lost Legacy launches this fall, players will take on the role of Chloe Frazer and Nadine Ross rather than long-time series protagonist, Nathan Drake, and his usual cohort of accomplices. According to Creative Director Shaun Escayg, the team at Naughty Dog felt it was time to dig into the backgrounds of some of their other favorite characters from the series.
Speaking in a behind-closed-doors session during E3 2017, Escayg said that the world of Uncharted is vast but, given the collection of games that have launched so far, it can be easy to assume that Nathan Drake is always at the heart of every adventure. Once the team started developing story-driven DLC for Uncharted 4: A Thief's End, he said that Naughty Dog took a look at pretty much every main member of the cast in order to decide what story they wanted to tell next.
Playing a key role in two of the previous Uncharted games, the only real background we have on Frazer at this point is that she and Drake knew each other from previous jobs and, yeah, she's kind of a badass. But what motivates her? What causes her to check out when the going gets tough? Escayg said these are exactly the kinds of questions the team wanted to have answers to, and there's no better way to find those answers than to give Frazer a chance to stand in the spotlight.
But an adventure seeker is only as good as the people they have at their side, which is why Uncharted 4 baddie Nadine Ross was brought into the narrative for Lost Legacy. Similar to Frazer, Ross is a character who warranted more exploration.
As Escayg puts it, Naughty Dog wanted to see who these characters are and what they do when Nathan Drake isn't around. Based on the gameplay we've seen so far, it seems like the answer might be "exactly the same kind of antics." For fans of all of that running, jumping, shooting and quipping, that's not a bad thing. But while the gameplay will remain much the same, it seems like the issues Chloe and Nadine deal with are very different from the usual struggles of Nathan Drake, which should make their story worth checking out.
Uncharted: The Lost Legacy will launch exclusively on PlayStation 4 on Aug. 22. It will be free of charge for season pass holders and $39.99 as a standalone adventure. Originally planned as a short piece of story-driven DLC content for Uncharted 4, the game ballooned into something of a monster. Naughty Dog has said that players shouldn't go in expecting it to last as long as a numbered Uncharted game, but that this latest adventure should take quite a few hours to work through.
Your Daily Blend of Entertainment News
Staff Writer for CinemaBlend.